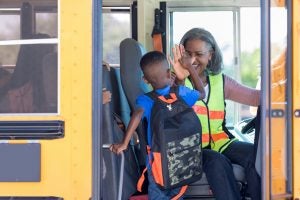 The electric vehicle movement is having a moment. And I'm not talking about the usual passenger EVs that everyone already knows about — the Teslas, the Volts, the Bolts or the Leafs.
I'm talking about the next wave of EV markets that, when they take off, will fundamentally change how people and freight are moved. Here are four new developments that prove electric trucks and buses are gaining momentum.
1. Washington commits dollars, legislation to electric buses
First, a pair of announcements from Washington could spur new research and deployment of various low or zero-emission transit vehicles. The Federal Transportation Administration awarded 38 grants totaling $85 million to transit agencies across the country to purchase or lease "low or no emission" buses. Since its inception, the FTA's Low-No program has funded more than $300 million in new buses, training or infrastructure. And a group of U.S. senators introduced the Clean School Bus Act last month, through which the U.S. Department of Energy would spend a billion dollars to help convert diesel school buses to clean electric models. A companion bill was just introduced into the House.
Both of these announcements underscore the rise of electric buses and the benefits they would bring — beyond fewer greenhouse gas emissions — to local communities. For cities that depend on them, for example, diesel buses are a significant source of local air pollution that exacerbate asthma and other respiratory conditions, increase work and school absenteeism and increase health care costs. For the 25 million children in the U.S. that take a bus to or from school, an electric bus would not just mean a healthier climate, but healthier lungs.
4 new developments that prove electric trucks and buses are gaining momentum
Click To Tweet
2. Ford previews an all-electric F-150
Second is Ford's recent public relations coup for its development of an all-electric F150 pickup truck last month. The F150 is Ford's bread-and-butter and has been the best-selling truck model in the U.S. for 42 straight years. In late July, it promoted a short film of a handful of hard-core F150 owners watching in amazement as the company's all-electric F150 prototype pulled 10 train cars full of 42 F150 trucks (one for each year it's topped the best seller list).
Showmanship aside, the film underscores the marketing challenge manufacturers think they have in front of them and how their EV models will answer it. Truck drivers want power, torque and ability. Period. Saving fuel (or the climate) is not a top priority for this demographic. Ford's train pulling stunt went right at that marketing challenge and showed some skeptical truck owners that tomorrow's Ford trucks will deliver the goods for construction workers and ranchers just like they have for decades.
A number of automakers are developing electric pick-up trucks, including established players and new entrants. It's hard to overstate the importance a successful electric pick-up truck market will have on the future of vehicle emissions. These trucks account for nearly 20% of sales for light-duty vehicles in the U.S. Further, large pick-ups dominate the light commercial truck category that alone contributes 60 million tons of climate pollution a year.
3. Leading investment firm says oil's days are numbered for vehicles
Last month BNP Paribas released a ground-shifting analysis which found that renewable powered EVs can out compete combustion vehicles even at low oil prices of $20/bbl (equivalent to about $1.60/gallon). The case for EVs will only improve as the costs of batteries are further reduced. As the report noted, "a few years' time will likely bring the oil-price range required to be competitive with wind and solar as a fuel for LDVs into single figures, all else being equal."
4. Electric big rigs hit the road
Freightliner just delivered its first two all-electric eCascadias into service, which is significant because the Cascasdia is the top selling heavy-duty truck in its class. Class 8 tractors are the largest vehicles on the road with the highest power demand. They also use more fuel and release more greenhouse gas emissions than all other truck classes combined — starting to convert these trucks to EVs is a really big deal.
The two Freightliner trucks will be operated in Southern California – where diesel trucks are the leading source of smog-forming pollution. California has been the leader in the deployment of zero-emission trucks and buses. It's currently exploring a manufacture sales requirement for zero-emission trucks that would start in 2024.
Individually, each of these newsmakers demonstrates the growing momentum behind the research and deployment of electric vehicles as clean, practical and able alternatives to gasoline and diesel. Together, however, they add up to much more: proof that the electric era is much closer than you might think.