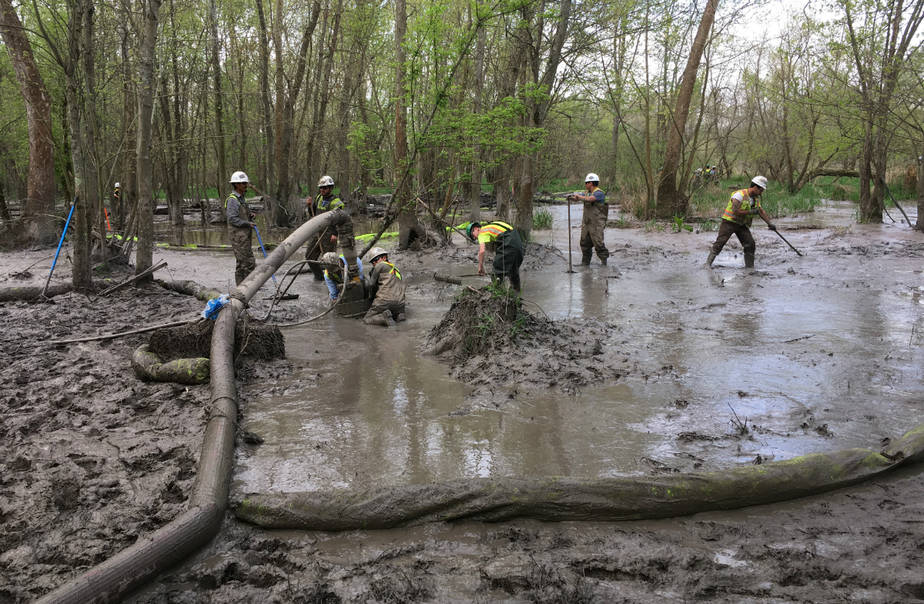 Energy Transfer Partners (ETP), the same company responsible for the Dakota Access Pipeline, just spilled millions of gallons of drilling sludge into an Ohio wetland – but don't worry, they say everything is "safe."
Craig Butler, Director of the Ohio Environmental Protection Agency called the company's response "dismissive," and "exceptionally disappointing," and he's right.
Fortunately, federal and state regulators have stepped up to hold ETP accountable.
The Federal Energy Regulatory Commission ordered ETP to halt plans to continue with other pipeline drilling projects in the area and to double the number of environmental inspectors on its payroll.  And the Ohio EPA fined ETP $400,000 for the damage caused by this spill, damage that OEPA says could be deadly and last for decades.
Still, ETP claims that they "do not believe that there will be any long-term impact to the environment."  How do they figure that? It is clear that without regulators stepping in to manage the literal muck, the company would not have done the right thing.
Companies routinely argue that spilling is never their objective and thus regulations to prevent spills from happening are unnecessary. This is flawed logic. The objective of a driver speeding down the highway isn't to get into an accident, it's to get where they're going faster. But accidents happen—on the highway and in the oilfield – and it's exactly why we have traffic laws and environmental standards.  Because many people, and companies, won't follow the rules unless someone makes them.
This should be a wakeup call about the real risks associated with oil and gas operations. These risks cannot be reduced to zero, but regulation is the only assurance that the American public has that they are protected when something goes wrong.
Of course, not all drivers run red lights, and not all companies are as reckless and destructive as what we see in this instance. Many are mindful of the environmental risks of constructing and operating well sites and pipelines.  Regulations that require more rigorous oversight and environmental enforcement reward the companies that are already doing the right thing, and they hold the bad actors accountable for their mess.
The way ETP handled the situation in Ohio is regrettable and it's a clear indicator for why we cannot allow oil and gas companies to operate with flagrant disregard for our health and our environment. Strong state and federal regulations and vigilant enforcement of such regulations are our best assurance that disasters like this don't happen again.
Image source: Ohio EPA