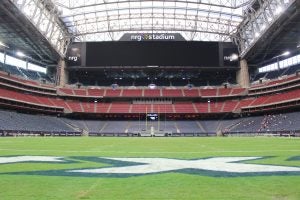 This weekend, thousands of people will descend upon Houston to watch the New England Patriots and Atlanta Falcons duke it out at the Super Bowl. But the game won't be the only thing on display.
In 2014, Houston's NRG Stadium became one of the first major sports venues to use LED energy-efficient lights. The system uses 60 percent less power than the previous lighting array, translating to significant energy savings. What if Texas took a page from NRG's book to lead the country in saving energy?
Texas recently kicked off its 85th Legislative Session. Now is the time for state leaders to seize on energy efficiency as a win-win-win path, creating local jobs while helping Texans save money and water, and reducing electricity waste and pollution.
New market, new jobs
A new U.S. Department of Energy report shows nearly 150,000 Texans already work in energy-efficiency related jobs. That's no small figure, yet California has over twice as many people working in the sector. Since Texas has a significantly higher energy use per capita than California, there is huge potential for the Lone Star State to use power more efficiently and significantly increase the number of Texans in energy-efficiency related jobs.
In addition to creating jobs, energy efficiency is an extremely cost-effective resource. According to the major private investment firm Lazard, it costs zero to 5 cents per kilowatt hour to save energy through energy-efficiency investments, making it by far the cheapest energy resource. A kilowatt hour saved by one person makes it available for other uses, like powering our state's businesses.
[Tweet "This Year's Super Bowl is Energy-Efficient. Shouldn't Texas Be?"]
Energy efficiency also requires no water, as opposed to the thirsty demands of other electricity sources, particularly coal. In a state prone to droughts, the importance of water conservation cannot be understated, especially with more people moving here every day. In fact, the most recent state water plan shows available and existing water supplies will drop in the coming years. Energy efficiency has the added benefit of safeguarding Texas water, on top of saving money and lowering pollution by not generating unnecessary power.
Legislative support
Fortunately, Texas is already on an energy-efficient path due to existing legislatively-approved building codes and utility programs. These initiatives will significantly reduce the growth of the state's energy demand by 2030, and accumulate net savings for Texans of almost $5 billion.
Yet we can – and should – aim higher. Currently, the Public Utility Commission of Texas has imposed a cap on how much utilities can spend on energy efficiency initiatives. This limit hamstrings the utilities by restricting them from pursuing more innovative, cost-effective efficiency programs. Removing this budgetary cap – while maintaining the current stringent standards that require a utility to prove an investment will be cost-effective – will accelerate Texas' efficiency and economy. The Commission also should take a fresh look at the state's existing energy efficiency opportunities, so the most cost-effective areas can be targeted for implementation.
Additional strategies can drive the state's energy efficiency further. In 2013, Texas legislators passed an innovative, market-based financing program that enables commercial property owners to obtain low-cost, long-term financing for energy efficiency, onsite generation, and water conservation improvements to their properties. Called Property Assessed Clean Energy (PACE), more than 11 communities, including Dallas and Houston, have enabled their local businesses to use lower-cost financing for improvements to their buildings, with the loans repaid through property tax bills. Texas legislators can take steps to increase the use of PACE financing, like by making government-owned and new development of affordable housing properties eligible for this financing strategy.
Many other states have set more meaningful, ambitious standards and continue to strengthen them.
Finally, the Legislature should increase the state's efficiency goal. Texas was actually the first state in the country to adopt an energy efficiency standard, but has now fallen behind. In fact, Texas hasn't updated its efficiency goal in years, and the majority of utilities have no trouble meeting it. Meanwhile many other states have set more meaningful, ambitious standards and continue to strengthen them, as Michigan and Illinois have done in just the past few months. By putting in place a stronger, well-within-reach efficiency standard, Texas could reclaim its leading spot.
Will this year's energy-efficient Super Bowl be a sign of the times to come? With some small pushes from our state leaders, we could also take the reins on driving the nation's energy efficiency. On the national level, we've seen that efficiency rules don't hurt manufacturers while saving utility customers billions of dollars. In addition to serving as a cost-effective means of creating jobs and saving money, cutting energy-use helps protect our water supplies and lower pollution. The health rewards from cleaner air would be the cherry on top of a more efficient, affordable Texas energy economy.
A version of this article ran on Dallas Morning News on January 17, 2017.
Photo source: Flickr/Victor Araiza