*UPDATE: Days after this data was released, the Pennsylvania Department of Environmental Protection issued draft permits that will help reduce methane emissions from select oil and gas facilities across the state – making Pennsylvania the latest state to take commonsense action on methane .*
EDF and Google have released new interactive maps that show Pittsburgh residents just how much methane may be escaping from city pipelines.
Methane is the main component of natural gas. Millions of families across Pennsylvania and the country depend on it to heat homes and prepare their dinners. But when leaked into the atmosphere, it can wreak havoc on our climate, represent millions of dollars' worth of wasted American energy, and pose serious risks to public health and safety.
That's why we spent the past year working with Peoples Gas in Pittsburgh to use Google Street View mapping cars specially equipped with state-of-the-art methane sensors to determine how many pipeline leaks there are, how much methane is leaking, and where these leaks are located.[Tweet "Snapshot of natural gas leaks in Pittsburgh, PA https://edf.org/hX3 via @EnvDefenseFund"]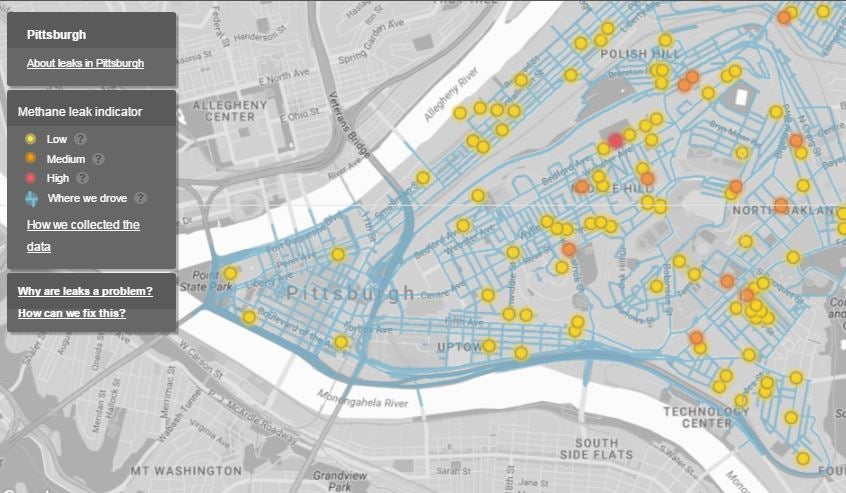 Fixing hazardous gas leaks has long been a requirement for utility companies, but countless other leaks that don't pose an immediate risk can, and often do, go unrepaired for long stretches of time. And until recently, it has been hard to measure the leak problem on a large scale, or to use leak information to prioritize upgrades that deliver the biggest bang for the buck. This data helps them do just that, and in fact, some states are mandating that this methodology be used to help develop data to help address public safety and climate concerns.
A growing body of scientific research makes it clear that methane emissions are a problem across the entire natural gas supply chain, from the moment the gas is pulled from the well, all the way to the local pipes and gas meters that deliver gas to homes and businesses. And this is largely why Governor Tom Wolf has made controlling methane from the state's existing oil and gas infrastructure one of his key priorities.
Why Pennsylvania is Tackling Methane Pollution
Methane is responsible for about a quarter of today's global warming. It's also a public health risk. When it leaks from well pads and other upstream facilities (before it gets to the local pipeline) it can frequently escape with other pollutants that can exacerbate respiratory illnesses,  like asthma, for people who live, work and play near such facilities. Nearly one and a half million Pennsylvanians, about 12.5% of the state's total population, are affected by asthma and, therefore, are particularly vulnerable to pollution from oil and gas operations.  And recent polls have shown that the majority of Pennsylvanians support common-sense rules for methane pollution.
Because methane is the main ingredient of natural gas, energy companies, utilities and regulators have a vested interest in keeping a valuable American energy resource out of the atmosphere and in the pipes. Cost-effective technologies – like those used in our methane mapping project – are already being used with great success to help companies capture and control wasted methane.
In the wake of this newly released data, Gov. Wolf has indicated that his administration will soon release new regulatory proposals that will require oil and gas companies to use these leading methane capture technologies on the more than 100,000 active wells, compressors, and processing stations across the state.
As the second-largest natural gas producing state in the nation, Pennsylvania must rise to the challenge of safe and sensible energy development.  Policy that requires operators and utilities to maintain functioning and efficient equipment will help us meet that challenge and ensure that impacted communities in Pennsylvania are protected.
Photo Source: George Mendel Photography