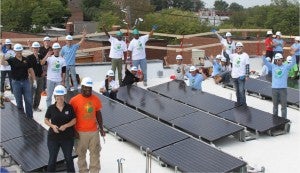 As rapid changes in energy technology – both in renewable and fossil fuel sources – transforms the way we power our lives, we have a chance to leave our children a prosperous world and reduce the effects of climate change. But, to scale fast enough, we need smart policies – at all levels of government.
National policies are essential to raise our level of ambition, put a price on carbon, limit emissions from key sectors, and spur innovation. For example, the Clean Power Plan would accelerate the adoption of clean energy technologies. But, many states are taking strides to promote innovative technologies and paving the way for national policy.
Dynamic Pricing
For 20 years, the Nobel prize-winning theory of dynamic pricing has benefitted a range of industries from hotel bookings on Orbitz and Amazon's popular item pricing to surge fares on Uber and many more. Dynamic pricing is a key tool to maximize the market opportunity for a range of clean technologies, but most state public utility commissions have been slow to take advantage of this tool.
EDF is advocating for dynamic pricing in target states around the country. One example is California, where, by 2019, nearly nine million residential customers will have "time-of-use" as their default pricing. Studies show this type of dynamic pricing scheme alone could shave peak residential power demand by about 10 percent. And, in addition to other policies we've championed, it convinced state leaders that it is feasible to raise California's renewable energy goal to 50 percent. We estimate that these victories will cut the state's overall greenhouse gas footprint by about seven percent.
Access to Big Data
The grid of the future envisions home appliances, electric vehicles, rooftop solar, and smart thermostats operating seamlessly with the power grid. And, today, over 50 million smart meters connect American homes and businesses to the grid. Unfortunately, many electric companies don't make it easy for customers to see their own data or to share it with energy management services that can help reduce costs and pollution.
[Tweet "3 Policies Driving Innovation in the Electricity Sector"]
In Illinois, EDF worked with a customer-advocacy group called Citizens Utility Board to develop our Open Data Access Framework that's now been adopted by state regulators and local utilities. Energy entrepreneurs like Nest and Google plan to use this data transparency to help customers save energy and money. And EDF is working to replicate the framework in other key states.
Incentives for Efficiency
You get what you pay for. So if states want to reduce the air pollution that comes from generating electricity, shouldn't they make it possible for electric utilities to earn more by polluting less? That seems like a no-brainer, but many of today's incentives point exactly the wrong way. If utilities help promote energy efficiency, for example, they sell less electricity and earn less.
We do not have to choose between cleaner air, a thriving economy, or shared prosperity; we can have it all.
EDF and its partners worked with the state of Illinois to link a major electric utility's compensation to its environmental performance, and developed a unique new metric for linking greenhouse gas reductions to clean energy. It's the first time this has been done, but it won't be the last, because EDF is now pursuing this pay-for-performance approach with other states, too, including New York and California, and we're aspiring to make it the standard nationwide.
We do not have to choose between cleaner air, a thriving economy, or shared prosperity; we can have it all. We just need smart policies to help drive innovations and technologies that can make the clean energy future a reality.
To learn more about policies driving innovation in the electricity sector, please join Diane at the Brainstorm E conference today (5/17/16), where she'll be speaking on the panel, Living with Fossil Fuels in a Carbon Constrained World at 12:25 PT.
Photo source: Grid Alternatives