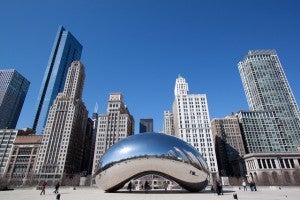 It started with U.S. Energy Secretary, Ernest Moniz. He was in Chicago to give a high-profile speech on the Iranian nuclear deal and had two free hours after the luncheon address. His staff called to ask if the secretary could come over to our office, which houses Environmental Defense Fund (EDF), an assortment of clean-energy start-ups, and the Energy Foundry, essentially a private-equity firm financing such entrepreneurs. Hard to say no to the head of the U.S. Department of Energy.
About a month later, we get a call from the Environmental Protection Agency (EPA). Gina McCarthy, head of the EPA, was going to be in Chicago for a press conference. She had some free time in the late morning and wondered if she, too, could drop by to talk. Who's going to deny the EPA administrator?
After another month, we get another call. This time from the U.S. Small Business Administration, whose administrator, Maria Contreras-Sweet, was going to be in Chicago. She had heard from colleagues that our office was the "place to be," and wanted her own informative tour. What could we say?
The U.S. is currently undergoing a major transition to a cleaner, smarter, more efficient electric grid, and Illinois is at the heart of this change – which is clearly attracting interest from prominent leaders. So what exactly did our high-profile guests want to learn about?
We talked with the energy secretary about how grid modernization can empower people with access to their own energy-use data, as well as how to calculate the greenhouse-gas reductions resulting from advanced energy meters (which Illinois utilities are currently trying to figure out, with our help).
We also walked Secretary Moniz around the office, and the MIT physicist regaled in conversations with creative developers of energy storage, which is starting to rival conventional energy resources. Chicago is becoming a center for battery research and demonstration, and EDF recently helped the iconic Merchandise Mart demonstrate how energy storage can benefit – and even generate revenue for – commercial office buildings.
[Tweet "EDF Chicago hosts high-profile energy visitors in 2015. #cleanenergynow"]
Gina McCarthy was in town to announce an impressive Illinois initiative – the nation's largest of its kind – to leverage customer rebates to get more than a million smart thermostats into Northern Illinoisans' homes. While at our office, she was particularly interested in our work on demand response, a way to incentivize buildings to conserve energy when the electric grid is stressed. Specifically, she wanted to learn more about our partnership with the Combined Capacity Asset Performance Project (C-CAP), a collaboration with PJM (the regional grid operator) to demonstrate how demand response can continue to play a strong and vital role in PJM's electricity market. She seemed to agree that demand response is a key tool for reducing carbon pollution, and the EDF-PJM initiative was an innovative means to achieve efficiency.
Of course, as the head of EPA, McCarthy also wanted to know about our efforts in Illinois to advance the Clean Power Plan's nationwide limits on carbon pollution from power plants. While some states are fighting the Clean Power Plan, Illinois has indicated it will develop an implementation plan and EDF is working with allies, like Citizens Utility Board and the Illinois Clean Jobs Coalition, to ensure the state complies.
Our third visitor, Maria Contreras-Sweet, heads up the Small Business Administration, a U.S. government agency that provides support to entrepreneurs and small businesses. She was particularly interested in how government financing and programs could encourage innovation and efficiency in emerging electricity markets. We told her about our efforts to help pass the Illinois Clean Jobs bill, which a recent report found would lead to 32,000 new jobs for Illinois – a direct result of expanding efficiency and renewable energy investments. The bill has support from a diverse set of groups and both sides of the aisle.
Maybe our high-profile visitors really didn't have a lot to do in Chicago after they gave their planned speeches. Maybe they stopped by to enjoy a 12th-floor view of Millennium Park and Lake Michigan. Maybe they wanted to hang out with 30-something entrepreneurs (present author excluded). But we like to think our innovative energy developments are the big attraction for senior administration officials.
Our guests during 2015 came to learn, and we happily obliged by sharing information on the interesting work EDF is undertaking in the Midwest to transform the way energy is created, moved, and valued. While we navigated around their beefy security details, we expressed appreciation for their leadership, as well as their interest in the collaborative, clean-energy momentum building in Illinois.
Photo source: Tim Sackton (Flickr)