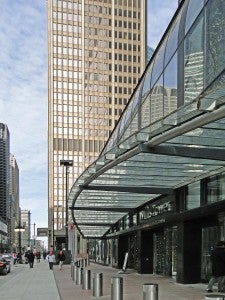 By: Andrew Barbeau, President of The Accelerate Group, LLC, and senior clean energy consultant to EDF
Early January 2014, during the heart of the Polar Vortex, grid operator PJM had its finger on the switch ready to start rolling blackouts across 13 states and Washington, D.C. As temperatures plunged to 20- and 30-below zero, coal piles froze and conveyors broke down at coal plants, gas plants without firm delivery contracts sat idle without fuel, and PJM officials were sending out pleas for help for large electricity consumers to cut their use. Twenty-two percent of power generators failed to show up as expected that day, and PJM officials vowed not to let that happen again.
Likely not able to prevent future extreme weather events, PJM is looking at a major restructuring of its own market design to change how and when it pays for power to ensure the lights (and heat) stay on. But some believe those market changes come with some significant risks – particularly to the role of demand response, or emergency events during which buildings, homes, and industrial facilities are rewarded for reducing their electricity use.
Over the past several months, Environmental Defense Fund (EDF) and The Accelerate Group have been working closely with PJM, Illinois consumer advocacy group Citizens Utility Board, and a number of building owners in Chicago to develop the Combined Capacity Asset Performance Project (C-CAP), an innovative pilot program to demonstrate how demand response can continue to play a strong and vital role in PJM's electricity market.
Demand response provides cost-effective grid reliability
PJM's primary tool for meeting power needs at peak hours is its Capacity Market, which provides payments to power plants and other energy sources to ensure the grid has enough generation to meet demand when it is most stressed. For years, those same payments have also been made to demand response participants, or customers willing and able to reduce their electricity use in an emergency.
In Northern Illinois, nearly two coal power plants-worth of demand response participated this past summer. Participants included efforts by homeowners to adjust their thermostat a few degrees during the day, commercial office buildings adjusting the office temperature for a couple hours and discharging a battery system, and manufacturing facilities staggering their work schedules so all their machines weren't running at the same time.
Summer markets are not enough
During the Polar Vortex, the Capacity Market as a whole was deemed by PJM to be ineffective and inefficient for meeting its purpose. Their reasons were simple, they said. The market, as designed, only required participants to be available for summer peak hours, and that meant PJM had one less tool at its disposal to make sure power needs were met year-round. In response, PJM proposed and received approval this June to create a new Capacity Performance market, phased in over the next few years, to help meet peak needs year-round, for extended hours, and with a new incentive structure.
[Tweet "Can smart buildings boost Demand Response in an era of capacity performance?"]
Those requirements may be too tough for most demand response as we know it today. According to an analysis by The Accelerate Group, up to 80 percent of existing demand response participants are only ready to participate during a limited number of events in the summer. This could be because their need for electricity is dominated by cooling in the summer, or they have restrictions on the use of backup generators for more than a few hours a year.
Losing 8,000 MW of inexpensive demand response across PJM – or enough to power more than 2 million homes – would be devastating, especially as the country is looking ahead at ways to significantly reduce carbon dioxide emissions from existing power plants under the Clean Power Plan. The portion of that demand response that was "clean" (i.e. not a diesel backup generator) would likely be replaced with more fossil fuel power plants, increasing carbon emissions and costs for people across the region.
Renewable energy is in a similar boat, as the year-round, day-and-night requirements will only give wind and solar a small percentage of their full capability, in order to account for any events that may occur when the wind isn't blowing or the sun isn't shining.
Our idea: Using smart buildings to create a cleaner, more reliable grid
The idea behind C-CAP is simple: If a building, energy storage, or renewable energy site can't meet the stringent year-round Capacity Performance market requirements on its own, it can combine with other buildings or off-site distributed energy resources to create a combined asset that fills in each others' gaps. Through the C-CAP collaboration, we will create dynamic clusters of buildings, home thermostat programs, wind and solar farms, and energy storage projects that will layer their capabilities together to be able to meet their combined commitment at any hour of the year.
In Chicago, we are leveraging EDF's strong relationship with the commercial office building sector to engage buildings and conduct individual building assessments. First, we are developing demand response plans for buildings to determine what they can reduce at any hour of the year.  Next, we are evaluating buildings across portfolios to see if all-electric (i.e. electric heat) buildings could be combined with summer-only buildings (i.e. those that can only reduce cooling use in the summer) to enable them to enter the market. Finally, we will combine those building portfolios with home thermostat programs or wind or solar farms to fill in any gaps, and provide an opportunity for renewable energy to participate in the market.
One of the first participants is Cook County government, which covers the Chicago area and surrounding suburbs. Cook County will be working with us to determine how to enter 45 of their buildings into the market, creating market revenue that will save the government money and help them achieve their sustainability goals.
And that's a vision of the future that shows promise – networks of buildings and renewable energy interacting with the grid in real-time to more effectively meet grid needs.