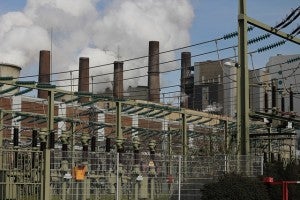 The list of things FirstEnergy isn't good at continues to grow. First it was transparency. Then accuracy. Now it's time to add consistency to the list.
You'll recall that Ohio-based utility FirstEnergy is asking the Public Utility Commission of Ohio (PUCO) to grant it a $3-billion bailout in order to keep operating uneconomic power plants. Years earlier, FirstEnergy spoke out in favor of deregulation – and the competition it enabled – and against government support. But the bailout request represents a complete reversal for the utility giant.
De-regulate, no, re-regulate
Back in 2007, FirstEnergy's CEO regaled about the wonders of deregulation and competition. In testimony before the Ohio legislature, he declared,
Competition drives innovation, a desire to succeed, efforts to improve productivity, and lower prices. This basic reality applies to today's electricity markets – and it should remain a driving force for our business and industry in the years ahead."
Maybe he didn't mean the eight years between his testimony and the company's current efforts to restrict competition.
[Tweet "FirstEnergy has shown itself to be consistently inconsistent #Ohio"]
The story actually begins in 1999, when Ohio deregulated its electric utilities and required power companies to place their generators in a separate, unregulated subsidiary in order to participate in competitive markets. FirstEnergy happily established FirstEnergy Solutions and began making investments in new generating facilities and upgrading existing plants. Over the next eight years, the utility proudly declared it "improved the productivity of its generating fleet by 27 percent and added about 1,600 megawatts of capacity, at no risk to customers."
The CEO in 2007 went so far as to say, "Our employees quickly recognized that competition made them more productive, and our company more successful."
So pleased was FirstEnergy with competition that, when some Ohio manufacturers wanted to re-regulate utilities with the hopes of getting lower rates, the emboldened utility huffed:
"Flip-flopping between regulation and competitive markets whenever one offers a lower price than the other undermines the ability of utilities to make the investment decisions needed to maintain reliable and adequate service. And, if the basic rules of our industry are rewritten every eight years of so – irrespective of the long-term impact of doing so – major providers of capital won't risk investing the billions of dollars it will take to meet Ohio's energy needs in the years ahead."
Eight years later, of course, it is FirstEnergy that is flipping and flopping – now trying to move away from competition and back to being a protected and subsidized monopoly. FirstEnergy is asking for a bailout because its plants can't compete in regional electricity markets on their own. If it can't get the bailout, the utility says it would support the Ohio legislature overturning its deregulation legislation, thus returning the power company to a monopoly protected from competitors.
Talk about inconsistency. In 2007, the utility's CEO declared, "If re-regulation becomes a reality in Ohio, we should expect significant increases in regulated rates." He also mocked anyone who would "avoid the real costs of producing and delivering electricity." Today, the power company tries to argue that it suffers from such costs, requiring monopoly protection to protect consumers and reduce the utility's risks.
Government bad, no, government good
The utility giant also seems to have changed its tune on government support, or "mandates." In 2007, the CEO said,
Rather than relying on regulation and government mandates to meet our state's energy objectives, FirstEnergy believes the competitive marketplace will deliver better products and prices and drive innovation and efficiency improvements."
And, in 2015, FirstEnergy's lobbyists convinced state legislators that clean energy incentives for energy efficiency and renewables were "mandates" that should be frozen indefinitely. Really, they just represented unwanted competition.
Now FirstEnergy is asking for guaranteed profits for its expensive power plants. It seems the utility supports government mandates when they subsidize its uneconomic power plants, but it rails against any state action that might enable clean energy entrepreneurs to compete.
FirstEnergy clearly favors whatever policy or stance benefits its interests at the time – not those of Ohioans.
This is one in a series of posts that examine FirstEnergy's proposed bailout for its aging coal fleet and other market manipulations. Stay up to date on FirstEnergy by visiting EDF's website, where we've published helpful resources and will host a series of newsletters. If you would like to receive our FirstEnergy newsletter directly, please click here.