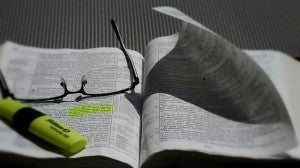 After a long summer and several delays, the Public Utility Commission of Ohio (PUCO) is scheduled to begin hearing FirstEnergy's plea for subsidies today. Over the past few months, Environmental Defense Fund (EDF) and other stakeholders have hit the streets, airways, and internet to explain the company's proposal. Thankfully for you, we've summarized the high-points of all this analysis in an easy-to-read outline. Here are the basics:
What is First Energy requesting?
FirstEnergy is asking PUCO to approve non-competitive purchase agreements that would enable the utility's distributors to buy power at above-market prices from FirstEnergy's subsidiary power plants. August 31 marks the beginning of testimony and cross examination of FirstEnergy executives, as well as diverse stakeholders, including EDF. This process may take up to seven weeks.
FirstEnergy is seeking subsidies for the 52-year-old Sammis coal-fired plant; two 60-year-old coal-fired power plants (Kyger Creek in Cheshire, Ohio, and Clifty Creek in Madison, Indiana); the Davis-Bessie nuclear plant, which is two years from the expiration of its 40-year license; and for the utility's share of the Ohio Valley Electric Corporation. The subsidies essentially shift the financial risk of these older and more expensive generators from FirstEnergy's shareholders to its customers, who would fund the proposal through fees and higher rates.
[Tweet "Everything you need to know about FirstEnergy's bailout request #FirstEnergy"]
What's the cost?
FirstEnergy claims the purchase agreements would save Ohioans $2 billion over the course of 15 years. The independent Ohio Consumers' Counsel, however, estimates the proposal will cost customers $3 billion.
FirstEnergy's scare tactics
FirstEnergy argues that these older power plants – and the money it is requesting to keep them running – are needed to avoid blackouts, brownouts, and higher customer electricity bills. Such claims are not unusual in the energy business. A regulator accusing an energy company of scaring the public, however, is That happened last week, when the PUCO chairman Andre Porter told Columbus Business First's Tom Knox that utilities like FirstEnergy should "stop trying to scare Ohioans."
FirstEnergy's bad bets
FirstEnergy needs the money because it doubled-down on coal investments that went south due to low natural gas prices and substantial gains in energy efficiency. Critics wonder why the utility should be subsidized for bad business decisions. Corporate gambles strike at the heart of capitalism; however, public underwriting of those gambles does not.
A return to monopoly control
Speaking of capitalism, FirstEnergy appears to be hedging its bets. Perhaps sensing it will not win before the PUCO, FirstEnergy is beginning to discuss the possibility of the Ohio legislature overturning deregulation and returning the company to a monopoly with guaranteed profits. FirstEnergy strongly supported deregulation when it thought it could compete in competitive power markets. This is a fairly dramatic flip-flop, and it's unlikely conservative Ohio legislators will embrace a shift that runs counter to their free-market and pro-competition principles.
Stifling competition
FirstEnergy doesn't like competition. The company has been particularly concerned about demand response, an effective energy conservation tool that pays customers to reduce electricity use during times of peak demand when prices and pollution are high. This low-cost, zero-carbon energy resource saved customers in the mid-Atlantic region $11.8 billion in 2013, but FirstEnergy sees demand response as undercutting its old and inefficient power plants. The utility has filed appeals to restrict demand response, and the U.S. Supreme Court will hear arguments on the case in early October.
To further stifle competition, last year FirstEnergy led the effort to make Ohio the first state to gut its clean energy and efficiency standards. In filings to PUCO, the utility admitted the initiatives saved families millions.
A two-for-one deal without the savings
Adding insult to injury, FirstEnergy's bailout appeal includes a provision that would force customers who choose to buy clean energy to also purchase FirstEnergy's coal energy, unnecessarily paying twice for power.
Bottom line
FirstEnergy's behavior shows how much electricity politics have changed. Having argued against favorable policies for renewable energy, FirstEnergy is now asking for public policy that will effectively put coal and nuclear energy ahead. Conservationists are pushing for competition, while utilities are talking about re-regulation and monopolies. Proven and cost-effective energy solutions like clean energy, efficiency, and demand response can compete in a real market – free from customer-funded bailouts.
Utilities across the country are embracing energy innovation in the form of wind, solar, demand response, grid modernization, and efficiency. FirstEnergy, however, has become the poster child for last century's utility business model: generate and sell as much dirty energy as you can.
No one can be sure how the FirstEnergy bailout saga will play out, but it's likely to have repercussions throughout the industry. If PUCO denies FirstEnergy's proposal, it could send a warning to other old-school utilities that choose to follow FirstEnergy's path.
This is one in a series of posts that examine FirstEnergy's proposed bailout for its aging coal fleet and other market manipulations. Stay up to date on FirstEnergy by visiting EDF's website, where we've published helpful resources and will host a series of newsletters. If you would like to receive our FirstEnergy newsletter directly, please click here.