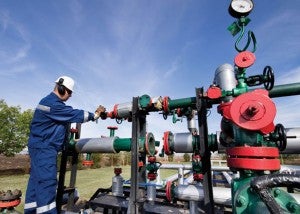 Europe's largest oil companies are reportedly working together on a policy strategy leading up to this year's international climate talks in Paris. It's nice to hear that some of the biggest players in the global oil and gas industry want to engage in solutions, but it remains to be seen if they will take the action needed to effectively tackle some of our most immediate climate threats – or to seize a major untapped opportunity.
That opportunity is methane. The highly potent greenhouse gas that's been largely ignored until recently represents a solution for making real and immediate progress to slow warming. So will the group of oil companies sign on to tackle methane as a big part of its strategy, or are they going to ignore it?
Methane, the primary ingredient in natural gas, has over 80 times the warming power of CO2 and is responsible for 25 percent of the warming we are feeling today. That means tackling methane is an essential piece of the puzzle in making a real impact on greenhouse emissions.
A recent report by the Rhodium Group found that current global methane losses from oil and gas would be the seventh largest gas producing country, nearly equal Norway's total 2012 production output, and packing the short-term global warming punch equivalent to about 40 percent of total CO2 emissions from global coal combustion. From an economic standpoint, these emissions account for 3.5 Trillion cubic feet of lost natural gas, and $30 billon of lost revenue. Without action, these methane emissions will increase more than 20 percent by 2030.
Given the enormity of the challenge, any credible industry effort must include methane. And, it's an easy ask – a recent analysis found that it's highly cost effective to reduce methane emissions, with an average net spend of less than one cent per MCF of gas produced needed to reduce methane emissions by 40 percent in the United States.
Here are three things we will watch to see if the new industry group gets serious about methane:
Scope – The companies should expressly affirm the importance of addressing methane alongside CO2, and recommend that policy mechanisms be appropriately broad, encompassing all material greenhouse gases.
Leadership – Whether in the U.S. or abroad, there should be a hand-in-glove fit – not a disconnect – between companies' global rhetoric in international venues, and lobbying on the ground in key national venues. In the U.S., for example, there is an imminent rulemaking on methane by the Environmental Protection Agency. Supporting this effort is a practical and concrete opportunity for global oil and gas companies to drive down harmful emissions while cutting waste and earning trust.
Partnership – Several European companies are starting to show global leadership in their operations. For example BG, ENI, Total, and Statoil are participating in the UN-sponsored Oil and Gas Methane Partnership, a voluntary effort to improve transparency and accelerate best practices to reduce methane emissions. And Shell and others have studied methane emissions and joined the call for continuous leak detection. That said, companies like Shell and BP, which are not yet members of the OGMP but are reportedly participating in pre-Paris climate discussions, should prioritize any voluntary group efforts on joining the OGMP to demonstrate their commitment, rather than re-inventing the wheel.
There is a deep and urgent need for broad corporate leadership on climate in the run-up to Paris. The top 32 energy companies account for about a third of global greenhouse gases, according to a recent  Reuters report, yet the oil and gas industry has generally been either hostile, or mute, on the need for climate policy.
Against that challenging backdrop, the new effort by European companies has potential promise to achieve a much needed breakthrough. Now, the question is whether the leadership will be up to the task; including methane must be a big part of the answer.