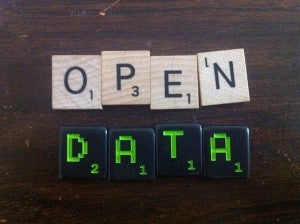 This May has truly been a banner month for transparency of the oil and gas industry.  To start, FracFocus, the state-run, national hydraulic fracturing chemical disclosure database, released chemical information of nearly 100,000 wells in raw digital format. On the same day, Colorado's Oil and Gas Conservation Commission (COGCC) put two key datasets online that will also increase what we know about oil and gas development.
Providing access to quality data is good for the public. The recently released data will help the public track oil and gas complaints and understand more about the quality of wells across the state. This is significant, as researchers can now analyze these data sets to uncover patterns of well issues that can ultimately lead to environmentally protective policy solutions – the Big Data revolution in a nutshell.  By making its data easily and fully accessible to the public, Colorado is helping to lead the way when it comes to responsibly managing oil and gas development.
Two new datasets, one big step forward
The complaint database shared by COGCC is pretty straightforward. When members of the public complain about an oil or gas well that complaint is logged, along with all of the follow-up and the resolution (or lack thereof). This download enables researchers to study the outcomes of citizen complaints about oil and gas activity in the state. Such research might lead, for example, to policies that help COGCC more rapidly respond to complaints. But whatever the case, there will be empirical evidence on which to base policy decisions, and that's how it should be.
The Mechanical Integrity Test (MIT) database is just as compelling, if a little geekier. Mechanical Integrity Tests are an important tool to protect groundwater, as they can help figure out if a well is leaking underground or at increased risk of doing so. Colorado is the first state to release MIT results online and Pennsylvania may not be far behind. This data provides a treasure trove to researchers trying to figure out the incidence of well integrity problems including well leak rates (which are notoriously difficult to determine) and understand the conditions under which leaks are most likely. Improvements in well integrity practices, when they occur, often owe a lot to data sets like these.
Putting data online goes a long way toward improving public understanding of oil and gas development and helps regulators determine what policies provide the most environmental bang for the buck. Between the data released by Colorado and FracFocus, states are heading in the right direction on this crucial transparency issue.
Image source: Flickr/justgrimes