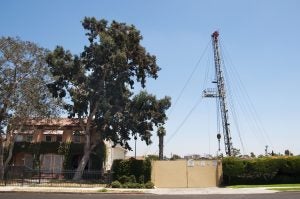 A new report from the Los Angeles County Department of Public Health (DPH) provides yet more evidence that greater oversight is needed to address health and safety concerns with the region's oil and gas facilities.
Los Angeles sits directly on top of 68 active oil fields, meaning many of the city's residents live in close proximity to harmful emissions associated with oil and gas development, including compounds that can cause cancer, respiratory diseases like asthma, severe headaches, neurological problems, and other health consequences.
LA DPH assessed the impact of urban drilling on communities in east and south LA and considered existing research to identify actions for regulators to reduce public health threats, including:
Expanding setback distances
Requiring continuous pollution monitoring at oil and gas sites in highly populated areas
Establishing a local auditing program to ensure operators are in compliance with federal, state and local regulations
Requiring companies to develop and share community safety plans
Requiring companies to create emergency response plans to inform communities of potential health risks.
Innovative Solutions in the Wake of Disaster
Enhanced oversight of urban oil and gas facilities is sorely needed in LA. The consequences of lax regulation were seen in 2015 when the Aliso Canyon natural gas storage facility sprung a massive gas leak that led to many hospitalizations and evacuations. A recent analysis from the University of Southern California suggests lax regulatory oversight and corporate dysfunction were primarily to blame for the blowout that took over four months to fix.
Fortunately, tech advances now make it feasible to install devices at oil and gas facilities that can continuously monitor air quality and provide early warnings to companies and communities when issues arise. If made public, the data from these devices could help regulators and researchers make better connections between an area's emissions and related health impacts on residents.
Legislative Action Leads the Way, Local Action Must Follow
Incidents like Aliso Canyon – which led 8,000+ residents to relocate due to toxic exposure – have forced regulators to face the reality that our state's expansive oil and gas infrastructure affects not only the planet, but people as well. Currently, state initiatives like AB 617 are leveraging advances in technology to deliver information to the public and drive down harmful emissions from industrial sources, including oil and gas facilities.
In its first year of implementation, AB 617 will launch community air monitoring plans in California's most overburdened and underserved communities to collect data and inform policy actions to reduce harmful emissions. Still, given the extensive air quality problems that plague our state, AB 617 cannot be relied on as the only avenue to track pollution and cut emissions. Local governments must build on state action and target specific sources of pollution, like the oil and gas wells that dot LA.
Protecting Vulnerable Communities
If given the weight they deserve, the DPH's findings will go a long way to protect some of LA's most vulnerable and underserved communities. As I noted in a recent piece for La Opinión, those who live closest to oil and gas sites are at the highest risk of exposure to toxic chemicals and poor air quality – and many of them come from historically disadvantaged communities. Over 70% of the people living within half a mile of an LA oil or gas site identify as people of color.
Pollution from these sites also disproportionately impacts children. In Los Angeles Unified School District, over 63,000 children suffer from asthma, making it the number one cause of missed class days.
Turning Recommendations into Action
Ultimately, collaboration between communities, regulators, and technology companies will be what turns those recommendations into effective action.
DPH's report provides agencies with solid, science-based recommendations for protecting health that align with those in EDF's recent Filling the Void report. Studies on the local and state level are also working to provide needed data to policymakers. These studies are all part of broad momentum to better address unmonitored oil and gas production that affects many regions in California.
Ultimately, collaboration between communities, regulators, and technology companies will be what turns those recommendations into effective action. It is now crucial for policymakers to seize the moment and ensure sound policy follows the science.
Image via Flickr