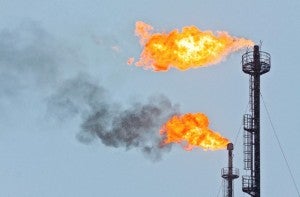 Everyone agrees that burning off as much as a third of the natural gas produced in North Dakota is a terrible waste of an important natural resource. The flaring problem arises out of the fact that energy companies are primarily drilling for oil in North Dakota.  A lot of natural gas comes out of those very same wells, though; and since the infrastructure isn't in place to take that gas to market, companies end up flaring gas as a "waste" byproduct of oil production.
This isn't a problem that can be fixed overnight.  Building the gathering systems, processing capacity and transmission pipelines to get this gas to market requires major planning and investment.  But we also have to recognize that in a capital-constrained world, the incentive is for companies to put their next dollar toward the next oil well – not toward lower-return (but still lucrative) investments in gas infrastructure.  If a company's bottom line was all that mattered, that might be fine.  But we have other issues at play here.
Flaring natural gas undermines national energy security, has negative impacts on the region's air quality, results in unnecessary greenhouse gas emissions and represents millions of dollars of lost revenue for the state, local governments, schools and mineral estate owners. In fact, in 2012 alone, flaring resulted in the waste of around $1 billion in fuel – or enough gas to heat more than a million homes.
That is why it is good to see the state stepping up to the plate to limit this wasteful practice. This week the North Dakota Industrial Commission made a significant move, establishing stair-step targets to reduce flaring from about 30 percent today down to 5-10 percent by 2020.  The new policy would empower the state's oil and gas regulatory agency to limit the amount of oil that companies can produce from wells that have excessive flaring.  This has the potential to be a very effective enforcement tool.
Operators could see their production limited to no more than 200 barrels of oil per day (BOPD), or even to 100 BOPD, if they fail to meet the state's flaring reduction targets or fail to comply with newly required gas capture plans – plans that operators must now submit detailing how they will get their oil wells tied in to gas gathering systems.
We are pleased that the Commission has opted to tie production limits directly to the flaring reduction goals. This is the type of performance standard that EDF advocated for in our comments to the Oil and Gas Division in April. However, the Commission also carved out several exceptions, including for wells that have already received exemptions from the state's statutory flaring restrictions. We will study the Commission's order carefully over the coming days to better understand its implications. While we are optimistic that these efforts will show results, only time will tell if the efforts made so far are enough to get the state to where it needs to be.