This post was co-authored by Tomás Carbonell, EDF Attorney, and Brian Korpics, EDF Legal Fellow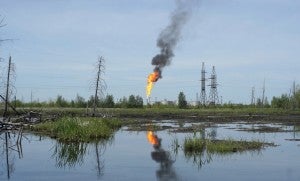 Last Thursday, the Department of the Interior's Bureau of Land Management (BLM) hosted a public forum in Washington, D.C. on venting and flaring of natural gas from oil and gas operations occurring on federal lands. This was the third in a series in which BLM received public comments on various options aimed at addressing the extensive and unnecessary loss of gas from onshore federal oil and gas leases. EDF is encouraged to see BLM taking on this vital issue, and we delivered testimony urging BLM to take strong and timely action to uphold its responsibility to minimize waste of our nation's natural resources and ensure oil and gas development minimizes impacts to our climate and public health.
Reducing waste of natural gas on federal lands is a core element of the President's strategy to reduce methane emissions, and for good reason. BLM is tasked with managing 700 million acres of federal lands – making it the largest single land management agency in the federal government – and it has broad responsibilities for the significant oil and gas resources located on those lands. Almost 40 million acres of BLM lands have already been leased for oil and gas production, accounting for approximately 14 percent of all onshore natural gas production and 8.5 percent of all onshore oil production in the United States.
Despite the scale of oil and gas production on federal lands, BLM's policies covering venting, flaring, and other losses of natural gas are over three decades old. These obsolete regulations allow producers to waste significant amounts of natural gas that could be cost-effectively captured using today's technology. The Government Accountability Office (GAO) found in 2010 that between 4.2 and 5 percent of all natural gas produced onshore on federal lands was vented, flared, or lost in fugitive emissions — enough gas to heat about 1.7 million homes each year.  A more recent study by the Western Values Project found that vented and flared methane could cost taxpayers nearly $800 million in coming years.
There are also significant climate concerns associated with this needless waste. Methane, the main constituent of natural gas, is a potent accelerator of climate change with a warming potential up to 86 times greater than carbon dioxide during the first twenty years after it is emitted.  The National Climate Assessment, released just two weeks ago, reported that climate change is already causing a host of adverse effects around the United States, including longer and more frequent droughts and heat waves; more frequent and intense extreme weather events; increased flooding; larger wildfires; and longer fire seasons. Vented and leaked natural gas also contains other harmful pollutants including carcinogens such as benzene, and smog-forming volatile organic compounds that contribute to a range of human health issues including respiratory illnesses.
BLM has the responsibility, and broad authority under two federal statutes, to ensure that oil and gas is produced in a way that minimizes waste and protects the environment and public health. We also know that there are common-sense, cost-effective technologies available to reduce methane emissions across the oil and gas supply chain, and that many of these technologies would end up saving the industry money over time. According to a report by the consulting firm ICF International, approximately 40 percent of methane emissions from the nation's oil and gas sector could be eliminated by 2018 at a total cost of just one penny per thousand cubic feet of gas produced in this country. Many of the methane-reducing measures highlighted in the report could be feasibly applied to the thousands of well sites, gathering and processing facilities, and transmission compressor stations on federal leases and rights-of-way that are subject to BLM jurisdiction.
Our testimony emphasizes several broad principles that we believe should guide BLM action, including:
BLM should rigorously carry out its responsibilities under the laws it is entrusted to administer for the benefit of our nation, including providing for requirements that oil and gas operations use best available technologies.
BLM should take action to minimize waste from operations that are already in existence, not just new operations. ICF's report found that even four years from now, such sources will continue to be responsible for almost 90 percent of total oil and gas emissions.
BLM should mitigate waste not just from oil and gas facilities located on leases, but also from other BLM lands, such as rights-of-way for gas transportation facilities.
BLM should place a high priority on measures that reduce significant amounts of natural gas losses and are known to be cost-effective, including: i) comprehensive and frequent leak detection and repair; ii) replacement of high-emitting pneumatic controllers with low-bleed models; iii) capturing and controlling emissions from compressors through best available technologies and good maintenance; iv) controlling emissions from oil wells; and v) controlling emissions from liquids unloading activities.
BLM can look to the actions of several states as it begins to craft a proposed rule, which is anticipated to be issued later this year under the President's methane strategy.  In February 2014, for example, Colorado established the first set of rules in the nation to directly regulate methane emissions from the oil and gas production segment. These regulations include, among other things, a leading leak detection and repair program for well production facilities and gathering compressor stations. Ohio has also followed suit and issued a rigorous program to address leaks from hydraulically fractured wells last month.  And Wyoming—the state producing the most oil and gas on federal lands—has had an effective leak detection and repair program in place for certain new production facilities since September 2013.
BLM will accept public input to inform its proposed rule through May 30, 2014. Strong action to minimize waste of natural gas on federal lands is urgently needed in order to fulfill BLM's fundamental responsibility to steward our nation's resources and ensure that the development of those resources does not compromise public health and the environment.