By: Elizabeth Sturcken, Managing Director, Corporate Partnerships Program
I never really expected to be sitting in a Walmart in Mountain View, CA listening to President Obama speak about environmental commitments, but I am excited for the momentum he is generating, particularly in the private sector, to support the EPA announcement on carbon limits on June 2nd.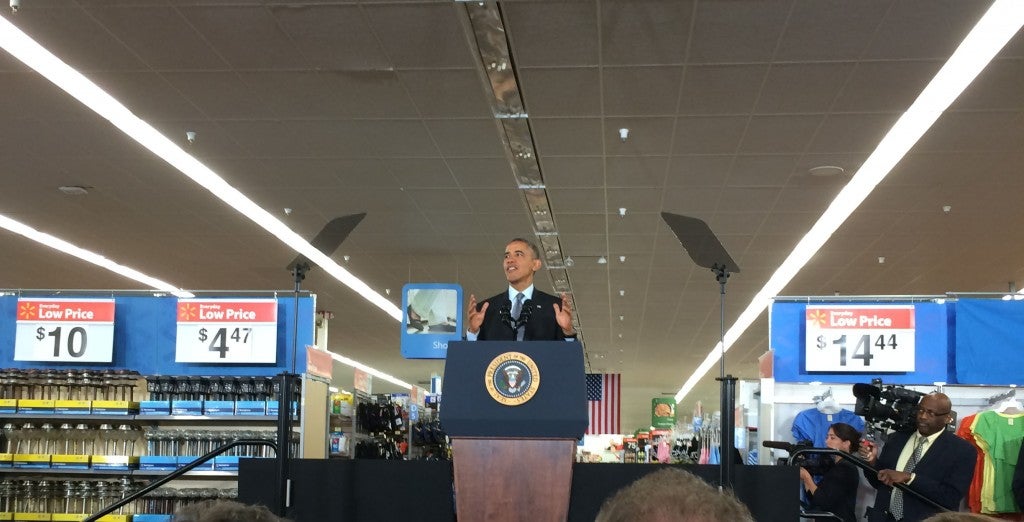 So why Walmart?
The President is making a point. Walmart gets about 25 percent of its global electricity from renewables. In the United States over all, only about 2 percent of power comes from solar sources. In 2005, Walmart set a goal to be supplied 100 percent by renewable energy. To date Walmart has 335 renewable energy projects underway or in development across their global portfolio. Having the president hold Walmart up as a role model is a great way to drive other industry leaders to follow suit.
This recognition is great news to EDF since we are a key NGO partner to Walmart and have been working with them on environmental solutions since 2005. (See the full EDF – Walmart partnership timeline). In 2008, EDF and Walmart announced a jointly-developed clean energy project to install and assess next generation solar technology at over 30 Walmart facilities. Today Walmart has 250 solar energy systems installed in the U.S. and has a solar energy capacity of 65,000 kW, top of the Solar Energy Industries Association rankings of U.S. companies.
Are industry leaders following suit?
The private and public sector commitments announced today represent more than 850 megawatts of solar deployed – enough to power nearly 130,000 homes – as well as energy efficiency investments that will lower bills for more than 1 billion square feet of buildings. Additionally, the President announced new executive actions that will lead to $2 billion in energy efficiency investments in Federal buildings.
We are especially excited to see companies step up for the President's Better Buildings Challenge which will improve energy efficiency of more than 1 billion square feet of new floor space by 20 percent by 2020. New to the President's roster are General Motors (committing 84 million square feet), MGM Resorts (78 million square feet) and Walmart (850 million square feet).
See the complete listing of private and public sector organizations making commitments today for solar deployment and energy efficiency.
Here at EDF, we believe that companies and business leaders must pave the way to a low-carbon and prosperous economy. Today Walmart committed to double the number of onsite solar energy projects at U.S. Stores, Sam's Clubs and distribution centers by 2020. This is in addition to their goal of reducing greenhouse gas emissions in their global supply chain by 20 million metric tons by the end of 2015.
We think President Obama's making his announcement at Walmart today was a clear signal to the public and private sector that business needs to step up and publicly commit to ambitious environmental goals. Walmart continues to do this, and we look forward to many other industry leaders following suit.
This commentary originally appeared on our EDF + Business blog.