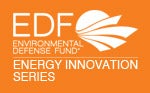 EDF's Energy Innovation Series highlights innovations across a broad range of energy categories, including smart grid and renewable energy technologies, energy efficiency financing and progressive utilities, to name a few. This Series helps illustrate that cost-effective, clean energy solutions are available now and imperative to lowering our dependence on fossil fuels.
Find more information on this featured innovation here.
As this series has demonstrated, energy innovation is happening around the world in a wide range of areas, from energy storage and smart grid technologies to renewables, electric vehicles and energy-saving software and services.
But innovation isn't just about inventing new technologies.  It's about getting those technologies out into the market.  And when it comes to bringing renewable energy options to residential and commercial customers, Texas-based Green Mountain Energy Company was the first to be 100% dedicated to cleaner energy with the electricity market opened to competition in the state in 2002.
Founded in 1997, Green Mountain is the country's longest-serving retailer dedicated to renewable energy, selling all-renewable energy options directly to residents and businesses in competitive markets in Illinois, Maryland, New York, New Jersey, Pennsylvania and Texas, and partnering with utilities in other regulated markets.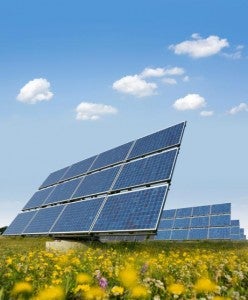 In September 2013, Green Mountain became the first company to offer residential customers in Texas an electricity plan powered by 100% solar energy.  The company's SolarSPARC™ product (Smart People Accelerating Renewable Change) allows customers to reap the benefits of solar energy without incurring the upfront cost of a solar installation.  Furthermore, Green Mountain Energy's innovative program overcomes other barriers that many homeowners face, such as lack of open rooftop space without hindrance of shade or a commitment to sign a long-term, twenty-year solar contract.
"Texas has incredible solar potential, and our customers want and deserve solar options," said Green Mountain's Shay Ohrel.  "But not everyone can afford the upfront cost of installing their own system or even has a suitable home for solar panels.  SolarSPARC™ gives them a way to be part of the solar revolution."
The program is available now to residential customers in competitive markets in Texas. According to Green Mountain, SolarSPARC™ electricity comes from 100 percent solar energy.  Initially, the power will come from solar credits acquired from national projects, but the company is breaking ground on Texas-based solar installations and will eventually incorporate a portion of this Texas-based generation to support SolarSPARC™ customers.  The first SolarSPARC™ project is sited alongside the company's wind facility near Big Spring, Texas.
In addition, Green Mountain will contribute $4 per month for each SolarSPARC customer towards developing new solar projects in Texas, and customers will receive an annual bill credit for each solar project they help fund.  The credit will start at $11 and could amount to $121 per year for customers who participate for 5 years.
Most people know about Texas' success with wind power but our state is also ranked first in solar energy potential.  The cost of solar continues to drop, and companies like Green Mountain are offering creative ways for customers to take part without bearing the upfront investment.  A strategic mixture of good policies, creative financing and enthusiastic energy companies will help spur the growth of solar in Texas.
Green Mountain is starting small, but it is committed to grow with demand.  "The more customers that sign up for the product, the more solar we'll build," said Ohrel.  "Texas has a lot of sunshine, and we plan on making sure it has a lot of solar power customers.