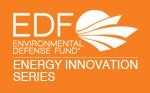 EDF's Energy Innovation Series highlights innovations across a broad range of energy categories, including smart grid and renewable energy technologies, energy efficiency financing and progressive utilities, to name a few. This Series helps illustrate that cost-effective, clean energy solutions are available now and imperative to lowering our dependence on fossil fuels.
Find more information on this featured innovation here.
Driving improvements in the built environment is extremely impactful because buildings emit more than a third of our country's greenhouse gases. Furthermore, according to IBM, roughly 30 percent of building energy usage is wasted. From location to location, however, these changes are sometimes hard to prove beforehand or demonstrate quantitatively after changes or investments are made. As the need to comprehensively tackle energy inefficiency has increased, so has technology's ability to identify and measure the impact that building upgrades (retrofits), operational shifts or basic behavior changes can make.
Companies like Lexington, Mass.-based FirstFuel Software (FirstFuel) are doing for energy information what Google has done for online search: using complex algorithms to help make simple, usable sense of the massive amounts of energy data being collected by smart meters and other energy management devices.  Needing only one-year of hourly meter data and an address, FirstFuel's Remote Building Analytics platform screens entire building portfolios for high-potential opportunities, conducts deep building audits and tracks energy savings – without ever going onsite or installing connected devices.
Using hundreds of proprietary algorithms and external weather and Geographic Information Systems (GIS) mapping technology, FirstFuel can provide detailed insight into each facility's energy use and lay out specific, actionable recommendations for improved efficiency.  "We call it a 'zero-touch' approach," said FirstFuel Software CEO Swapnil Shah. "It's a very simple and compelling value proposition for the customer.  No hardware and no on-site visits mean you can begin to achieve true scale."
Just as Google's online prowess is based in its sophisticated algorithms, FirstFuel's technology, developed by two Boston University professors, is where the company's innovation lies.  "It's amazing what simple hourly meter data can reveal when we apply the power of analytics," Shah said.  "We run a large number of discrete analyses using the energy data for an individual building, and each reveals a clue about how that building operates. When pieced together, the result is a very robust, accurate view of a facility's usage and level of efficiency across lighting, heating, cooling and other end-uses."
The Large Untapped Efficiency Opportunity
In the energy efficiency world, "low hanging fruit" is often used to describe the simple operational savings measures that businesses, governments and consumers can take to achieve fast, inexpensive results.  FirstFuel's analytics technology and staff of experienced building engineers often uncover energy saving measures that "traditional" on-site audits fail to detect.  For example, in an evaluation of 60 million square feet of commercial building space using its zero-touch audit, FirstFuel found that more than half of the cost-saving efficiency measures it identified could be realized with low and no-cost improvements in building operations. When extrapolated to the broader U.S. commercial building market, this opportunity could total $17 billion.
More than half of the buildings studied were cooled or heated more than an hour before people arrived and often two-to-four hours after people left.  Some buildings were heating and cooling at the same time, in different parts of the facility.  Yes, they identified the low hanging fruit, perhaps, but these types of opportunities are difficult to identify if you don't know where to look, and hard to justify if you can't prove that your changes were responsible for the cost savings.
FirstFuel provides its services to utilities as a "white label" offering (meaning the utilities repackage the FirstFuel product as their own for their commercial customers) as well government agencies with very large energy and carbon footprints. The U.S. Department of Defense – which operates over 300,000 buildings across the country and spends approximately $4 billion on energy annually – is one such customer.
"One of the remarkable and powerful things about good analysis is that it often makes difficult problems simpler and easier to overcome," said Shah. "That's our goal.  We want to provide our customers and building operators with a decision-driven platform that is simple, effective and affordable."