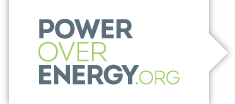 Did you know that 40% of the electricity used to power home electronics is consumed while they are turned off? And did you know the electricity it takes to power a single 100-watt light bulb for one year is generated by 713 pounds of coal?
With electricity outlets in every building and gas stations on every street corner, our dependency on energy is undeniable. Still, very few consumers are aware of effective ways to prevent waste and use energy efficiently. To educate consumers, several leading energy and environmental groups have united to create PowerOverEnergy.org, a warehouse of information about energy generation, consumption, impact and conservation.
The site aims to educate, empower and motivate consumers to use energy more wisely and to play an active role in our electric grid's modernization. America's outdated energy system is wasteful, expensive and a huge source of pollution. Over the next two decades, utilities will have to invest up to $2 trillion to modernize our electricity grid, most of which is past the age of retirement. A more resilient, smart "green" grid will pay for itself by saving the United States around $20.4 annually by increasing efficiency by five percent, and another $49 billion each year by reducing the cost of power outages.
Environmental Defense Fund, Silver Spring Networks, Sustainable Silicon Valley, Smart Grid Consumer Collaborative, Edison Foundation's Institute for Electric Efficiency, Global Green USA, GrideWise Alliance and Silicon Valley Leadership Group believe that knowledgeable consumers are necessary, and we've joined the Power Over Energy Coalition to arm people with the information they need to join the push toward a smarter, more resilient grid. Empower yourself and those around you by checking out the site and becoming an informed participant in the movement.