By: Jillian Jordan, EDF Energy Marketing & Communications Intern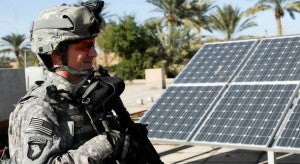 This months' announcement from the White House calling for green energy bids and its plan to fast-track wind and solar projects delivered a clear message that renewable energy is something the American military – and its government – whole-heartily believes in. The federal government's Renewable Energy Partnership Plan (Plan), headed by the Department of Defense (DoD) and the Department of the Interior (DOI), is pushing new project development on and near numerous military installations to the tune of $7 billion dollars.
Even more compelling is the fact that clean energy is now considered part of America's national security plan by key political figures and the DoD. The White House's Heather Zichal, Deputy Assistant for Energy and Climate Change, has commended this strategic move towards clean energy and endorsed the Plan as "operationally necessary, financially prudent and mission critical."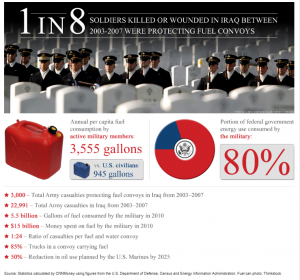 So mission critical, in fact, that the Army has planned the incorporation of renewables as a high-priority tactic for saving lives. Military convoys have long been known to be one of the most dangerous operations, costing more lives than many other career fields in the armed forces. When supplies like gasoline run out, transportation troops are assigned the duty of delivering them through hostile territory. For every 24 fuel resupply missions, one American life is lost – which constitutes one out of every eight deaths in Iraq. Using clean energy actually saves lives for today's military. The less fossil fuel used and the less dependent we are on oil, the less convoy trips are needed for refueling and to run diesel generators that power military tents, therefore minimizing the risk for American troops. 
The alternative energy infrastructure projects under the Plan will create jobs favoring local economies, produce about 7,200 megawatts of energy and utilize millions of acres of public lands and offshore areas that are best suited for wind and solar projects, all while meeting the goals of the federal Energy Policy Act of 2005. Under the Act, the military has voluntary plans for 25% of its energy produced by clean sources by 2025.
"Developing renewable energy is the right thing to do for national security, as well as for the environment and our economy," Secretary of Defense Leon E. Panetta said. "Renewable energy projects built on these lands will provide reliable, local sources of power for military installations; allow for a continued energy supply if the commercial power grid gets disrupted; and will help lower utility costs."
In addition to becoming independent from the national grid, utility costs have been upwards of $4 billion annually and the task force assigned to the Plan is determined to lower the DoD's energy bill and curtail energy usage. But, above all, the goal is to maintain the military's ability to remain powered during mission-critical times. Conditions of the Plan offer an added safety net in the event of a massive blackout or, for a worst-case-scenario attack on America's power grid.
Preliminary site evaluation began with DOI's Smart from the Start initiative under Secretary of the Interior Ken Salazar.  Pilot projects are currently underway in Arizona, California, Nevada and Wyoming, with more fast-tracked proposals to be announced in the next few weeks. The Renewable Energy Partnership Plan signed between the two agencies would allow the military to purchase power produced from homegrown, renewable energy sources, which could lead to a reduction in clean energy costs and an overall boost to the alternative energy sector.
Of the DOI's 28 million acres, 16 million of which were designated for defense, 13 million that are rich in resources and ideal for wind, solar and geothermal power generation. "Our nation's military lands hold great renewable energy potential, and this partnership will help ensure that we're tapping into these resources with a smart and focused approach to power our military, reduce energy costs, and grow our nation's energy independence," Salazar said.