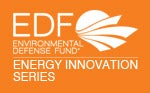 Throughout 2012, EDF's Energy Innovation Series will highlight more than 20 innovations across a broad range of energy categories, including smart grid and renewable energy technologies, energy efficiency financing, and progressive utilities, to name a few. This series will demonstrate that cost-effective, clean energy solutions are available now and imperative to lowering our dependence on fossil fuels.
Find more information on this featured innovation here.
Depending on whom you ask, utilities and independent power generators like NRG Energy (NRG) could be the savior or the victim of the country's future energy system. The smart grid — an upgraded electrical system that connects generators, distribution systems, homes, offices and the millions of devices that use energy — could be real trouble for traditional utilities. If they don't evolve, well, we know what happened to the dinosaurs.
And New Jersey-based NRG is making some impressive moves in an industry not known for rapid change.
Utilities have a lot to lose if they stand still and watch this wave of innovation pass them by.  But they also have a tremendous amount to contribute, and leveraging their expertise and capital could accelerate the innovation cycle and establish the generators and transmission and distribution companies as a critical piece of the electric grid of the future.
In 2010, NRG acquired Green Mountain Energy Company (GME), a Texas-based business that has been providing clean energy to consumers and businesses since 1997, making it the longest serving retailer of its kind. It is still the only retail energy provider (REP) in Texas solely focused on cleaner energy. In many ways, GME can be considered a "founding father" for the renewable energy sector, owning many "firsts" in the REP market:
GME was Texas' first REP to offer pollution-free products when electricity competition began in 2002.
GME developed Texas' first pollution-free electricity product specifically for electric vehicle owners.
GME customer demand helped develop over 50 wind and solar renewable facilities in U.S., including the first utility-scale wind farm east of the Mississippi – a wind farm built in Pennsylvania in 1999.
GME created a program, the Green Mountain Energy Sun Club, that to date has built solar arrays to power 35 non-profit organizations including schools, museums, zoos and Habitat for Humanity homes. Each installation includes an educational component explaining the benefits of solar energy to the non-profits' stakeholders.
GME also provides clean energy to some iconic American brands, further proving the viability of the renewable market while also leveraging visibility to encourage others to go green. Examples include the Super Bowl XLVI, Empire State Building (powered by 100 % wind energy) and Atlantic Cup (first carbon-neutral sailing race in the U.S.).
"With significant growth, customer commitment and a passion for clean energy, Green Mountain continues to accelerate a clean energy future," said Helen Brauner, senior vice president of Marketing & Strategic Planning, Green Mountain. "Thanks to our customers who share in our mission to change the way power is made through customer choice, we're celebrating 15 years of dedication to renewable energy this year."
NRG is also the largest solar power developer in the country and is a leading owner and operator of photovoltaic (PV) systems at residential and commercial locations. Through the NRG Solar subsidiary, the Company is developing two complementary technologies — photovoltaics and solar thermal — at two of the world's largest solar projects of each type: the 290 megawatt PV Agua Caliente Project in Arizona and the 392 megawatt Ivanpah Solar Electric Generating System in California. Upon completion in 2014, Agua Caliente will be the largest solar PV project in the world and will generate enough electricity to power more than 225,000 homes.
Additionally, the Company is building the nation's first privately-funded, comprehensive electric vehicle (EV) charging infrastructure. The eVgoSM system integrates home EV charging docks with a network of fast-charging stations that can charge a vehicle with a 100 mile range in a half hour or less. eVgo gives EV owners range confidence as they leave home every day with a full charge and know they can charge their vehicles quickly and conveniently if they need additional range. Additionally, the eVgo set-rate charging plans reduce the upfront cost of EV ownership while giving price certainty to EV drivers for the cost of fueling their vehicles.
"Electric vehicles are beginning to make a meaningful entry into the transportation market," said Arun Banskota, President of NRG EV Services, the operator of the eVgo network. "As the EV market grows, we need to ensure that customers have the needed charging infrastructure. Residential and workplace charging, backed up by public charging stations, are critical to encouraging greater EV adoption, and we want to provide this key piece of the new energy infrastructure to ensure car buyers can buy an EV with confidence."
NRG's clean energy investments cover a wide range of initiatives; it owns 450 megawatts of Texas wind power, supplying clean windpower to thousands of homes. Through its retail subsidiaries and NRG SunLease, the Company leases rooftop solar panels to commercial and residential customers to reduce their electricity costs. NRG has a partnership with the University of Delaware to develop eV2g, or electric vehicle to grid technology, that might someday pay EV drivers for plugging in their cars. NRG is also developing carbon capture technology at its Petra Nova subsidiary that could reduce carbon emissions from older coal plants in the future.