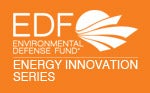 Throughout 2012, EDF's Energy Innovation Series will highlight more than 20 innovations across a broad range of energy categories, including smart grid and renewable energy technologies, energy efficiency financing, and progressive utilities, to name a few. This series will demonstrate that cost-effective, clean energy solutions are available now and imperative to lowering our dependence on fossil fuels.
For more information on this featured innovation, please view this video on Tendril's cloud platform Tendril Connect.
Solar panels. Electric vehicles. Wifi thermostats. Home security and energy management systems. More than ever, the devices we use every day have the potential to talk to each other and work together. It's what some people are calling the "Internet of things" or the "Energy Internet," and it has the potential to put an amazing amount of control in consumers' hands.
Boulder, Colorado-based Tendril is linking all those devices — and the data they generate — together. Tendril's staff merges decades of expertise in the energy industry, software development and behavioral science with one goal: to deliver the most engaging consumer applications, so that both utilities and the manufacturers of smart goods and products can connect more closely with their consumers. Tendril hopes its software platform—Tendril Connect—will be the platform for the Energy Internet.
Just as software developers big and small are able to build apps for Windows, OSX, Android and iOS, they are also able to build energy apps for devices that may tell you the best electricity rate plan based on your usage and your utility's offerings, or point you to changes you can make to shrink your carbon footprint.
In January 2012, Tendril opened its Application Programming Interfaces (APIs) making it possible for third party developers to leverage Tendril's platform to create apps. More than 400 developers have registered with the company's application developer program and more than 20 third party apps have been created—many at "hackathons".
For example, in May at The Next Web "Hack Battle" coding marathon, in Amsterdam, a 15-year old hacker used Tendril's APIs to build a prototype app that used geolocation data (GPS) to retrieve meter and customer information in order to control his home's energy usage.
"It blew us away," O'Neill said. "We gave this kid the tools, and he made a prototype in one weekend. Just imagine what teams of developers could do with a few months of work."
Tendril Connect is an open standards-based cloud platform that connects utilities, homes, applications and devices to realize the opportunities unlocked by new, smarter grids.
As more and more energy data becomes available and more and more developers use this data to create compelling apps, consumers will have increased insights, choice and control over energy management.
One example is GreenButtonConnect.com, where consumers can upload their Green Button data and select Green Button apps from an app gallery. Green Button, supported by the Obama Administration and an impressive number of companies and organizations, is literally a green button on utility customer interface websites that customers can click to instantly download their historical energy use data in a simple, standardized electronic format.
"When it comes to energy products consumers want simplicity and ease of use," O'Neill said. "But so do the innovators that will make those products. The amount of data being created by the energy system is exploding, but developers need a common language or platform to build on."
All types of companies are moving into this area, from utilities and other energy-focused companies to information technology entrepreneurs who are looking at energy issues for the first time.  The potential for profit is coming into focus, and developers want to get in early and create the Energy Internet's first killer app.