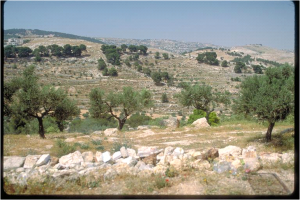 Many environmentalist believe that the ideal landscape is one untouched by human hands, and we fight tenaciously to protect unspoiled places from all manner of intrusion.   Yet sometimes landscapes are inspiring precisely because of human action.  Etched upon the Judean Hills is evidence of over a millennium of human activity, and this ancient record enhances their beauty.  The biblical origins of environmentalism are found in Genesis 2:15 where God places man in the Garden of Eden to till and tend it, and driving through hills lined with ancient terraces you can almost hear the voices of a thousand generations whispering "amen."
I believe that Thoreau was the first to offer the idea that a walk though unspoiled nature restores our souls, but no matter who first said it, I believe it.  But I also believe we were not put on this earth only to contemplate it, and so, how we choose to make use of nature is as important to our spiritual health as the fact that we appreciate it. 
On the outskirts of Ramallah, in the Palestinian Territories, the planned community of Rawabi is rising from the Judean Hills.  When you first arrive there it looks like any other construction site, and you recoil at how significantly the landscape is being scraped and shaped for what looks like just another housing development in the middle of the wilderness.  You recoil, that is, until you meet Amir Dajani, a large, jovial man, who is deputy director of what is this large project.  Dajani talks like a man on a mission, and he is.  The purpose of Rawabi is to establish a town that, in all respects, reflects a new and progressive vision for a Palestinian state.  Rawabi is being developed according to a master plan that takes into consideration all aspects of what makes for a quality life.  The vision statement for the development is "live, work, grow" and this reflects the fact that the developers are thinking about all aspects of what makes for a liveable community, and they are taking steps to ensure that this is a place where Palestinians of different ages, religions, and occupations can build a comfortable and secure life.  The hope is that Rawabi becomes a replicable model for building other similar communities on the West Bank.
Sustainability is at the heart of everything being done at Rawabi, from the site plan that honors the natural contours of site to the buildings which are efficient and make use of the ample solar energy available in the region.  Waste water will be fully recycled to support location-appropriate greenery, and smart grid technology will be deployed to help manage water and energy use.  Rawabi will be a city with free public transportation and a walkable town center where cars will not be required.  For those who believe that smarter land use is a necessary aspect of a sustainable, low carbon future, Rawabi is an exciting experiment in the making.
But perhaps most remarkable is how the Palestinian developers are reaching out to Israeli Jews for advice on the design and development of this project.  Israel itself was inspired by a utopian vision of a better future, and hopefully there is some healing that comes from Jewish expertise and experience helping to lay the foundation of an environmentally and economically sustainable Palestinian state alongside the Jewish one.  There are a thousand reasons why this all ultimately may not work, only some of which pertain to the environmental challenges being tackled here.  But the hope is that in tilling and tending this bit of earth properly, the seeds of a better future will begin to blossom for everybody.
This will be my last post card.  Tomorrow we spend time at the Yad Vashem Holocaust Memorial and tour the Old City of Jerusalem, both of which are infused with much personal meaning, but something I'll choose to keep private. 
L'hitraot, chaverim.  Looking forward to seeing you all stateside.