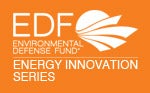 Throughout 2012, EDF's Energy Innovation Series will highlight more than 20 innovations across a broad range of energy categories, including smart grid and renewable energy technologies, energy efficiency financing, and progressive utilities, to name a few. This series will demonstrate that cost-effective, clean energy solutions are available now and imperative to lowering our dependence on fossil fuels.
GridGlo uses "data fusion" to analyze and predict energy consumption behavior.  Find more information on this featured innovation here.
The smart grid industry is more than a foundation for solar energy and electric vehicles. It is also a treasure trove of information that requires a much more sophisticated way to capture, analyze and use the billions of bytes of information that a modernized grid and its many components will generate.
Add to that the massive amounts of weather, social, emissions and other kinds of data already being collected and you can see that a smarter grid is going offer lots of job opportunities to data geeks and software engineers.
Media and analysts predict that the smart grid information sector will be a multi-billion dollar market and companies are already jockeying for big data market leadership, from established IT giants like IBM and energy hardware companies like Landys+Gyr, to tech-driven start-ups like Florida-based GridGlo.
GridGlo works with utilities to integrate energy usage and behavioral data using its unique software platform to identify, score and predict energy consumption behavior. One of its products, Energy People Meter™ (EPM), provides a real-time digital fingerprint of energy behavior patterns and creates score that helps utilities (and consumers) save energy and money.
"Utilities have spent billions upgrading their metering infrastructure," said GridGlo's founder and CEO Isaias Sudit. "But those systems are now generating a lot of data and the utilities need help figuring out how to use it effectively. Our software allows them to save money on the infrastructure side, while providing new and exciting services to their customers."
Utilities have long used data as a forensic tool to help pinpoint problems that happened in the past, such as blackouts. The real opportunity and challenge, according to Sudit, is moving from using energy data to tell us what has happened, to using it to tell us what is happening right now – and eventually, helping us predict what will happen in the future.
That kind of predictive analysis requires merging energy data with other data sets, like weather, lifestyle trends or demographics – a process GridGlo calls "data fusion." For example, utilities could use known demographics of likely electric vehicle buyers to better plan where infrastructure improvements are needed – before the grid is overstressed. Or national or regional demographic shifts could help utilities or regulators better plan transmission construction.
"Ultimately, all of this has to show value to the customer," Sudit said. Eventually, he thinks data fusion will be used by third party service providers and app makers, much like mobile, location and social data is used to power some of today's most popular products.
"But our most urgent need is to show how utilities can use this information to provide value directly to customers," he said. "If we can do that, the secondary markets will follow."