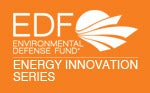 Throughout 2012, EDF's Energy Innovation Series will highlight more than 20 innovations across a broad range of energy categories, including smart grid and renewable energy technologies, energy efficiency financing, and progressive utilities, to name a few. This series will demonstrate that cost-effective, clean energy solutions are available now and imperative to lowering our dependence on fossil fuels.
For more information on our first featured innovation, please view this video on Xtreme Power's energy storage solutions.
Energy storage helps integrate clean energy into the electric grid
The electric grid today doesn't look all that different from when Thomas Edison first envisioned it over 100 years ago. Walk into a utility control room today and you might still see the "red phone" that they use for emergencies.
Thankfully, power companies throughout the U.S. see real value in upgrading our grid with modern energy management technologies and energy sources that are fast, more flexible and cleaner. Companies are taking various approaches, innovating across the clean tech spectrum from renewable energy to communications to energy storage.
In energy storage, some are working on battery technology, which – though much more advanced – works essentially the same way as traditional batteries. You charge them when power is plentiful, and use them when it isn't.
Innovative energy storage solutions in action 
Xtreme Power is a developer of digital power management and energy storage solutions and is currently designing the world's largest battery system (36 MW) for Duke Energy's 153 MW wind farm in Notrees, Texas, which was jumpstarted by a grant from the Department of Energy.
Xtreme Power's Dynamic Power Resources™ (DPR®) solution combines their PowerCell™ battery" with sophisticated digital power management systems to instantly adjust for imbalances in the electric grid. Xtreme Power describes its PowerCell technology as a "unique, advanced lead acid battery that can beat lithium ion batteries in terms of energy storage, efficiency, cycle life and cost."
How energy storage helps
Traditional fossil fuel power plants may be dirty, but they hum along pretty consistently, so the electric grid is able to manage the flow. Renewable energy sources like solar and wind not only vary from day to night, but also might vary from minute to minute, making power management more complicated.
Energy storage systems help ensure that we get the energy we need when we want it, and make it easier to use renewable energy in our homes and on the grid by balancing out a the effects of a cloud moving over a solar panel or of the wind dying down.
One of many opportunities in a complex system
This kind of innovation provides value all along the entire energy system.  It can make renewable energy more valuable by making it more predictable, and stabilizing the grid for far less money than larger infrastructure projects, all while helping us reduce our dependence on fossil fuels.
When most people think of clean energy, they think of hybrid cars and solar panels. The truth is that there are countless opportunities along the supply chain for innovation, from the gears and ball bearings that improve the efficiency of wind turbines, to technology driven systems like Xtreme Power's power management products.