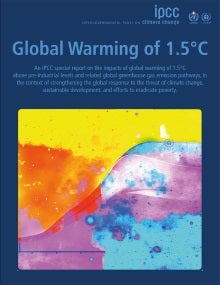 Co-authored by Ilissa Ocko. Haz click aquí para leer en español.
The tangible effects of human-induced climate change are increasingly visible. A recent study, for example, found that the 2017 hurricane season was more intense as a result of our changing climate. Limiting global warming levels is essential to curbing the future impacts of climate change, but how much does an additional half a degree Celsius warming change our world?
The special report issued last night by the Intergovernmental Panel on Climate Change (IPCC) considers the impacts of 1.5 °C global warming above preindustrial levels, in contrast to 2 °C, and how this lower warming target can be achieved.The report was written by hundreds of scientists hailing from 40 different countries and based on research from thousands of scientific studies.
Here are 6 key takeaways from the new IPCC report:
1. When it comes to warming, 1.5 °C is much safer than 2 °C…but still riskier than the present.
Limiting warming to 1.5 °C compared to 2 °C has clear and considerable benefits, such as significantly reducing the risks of water scarcity, ill-health, food insecurity, flood and drought, extreme heat, tropical cyclones, biodiversity loss, and sea level rise. Read More »