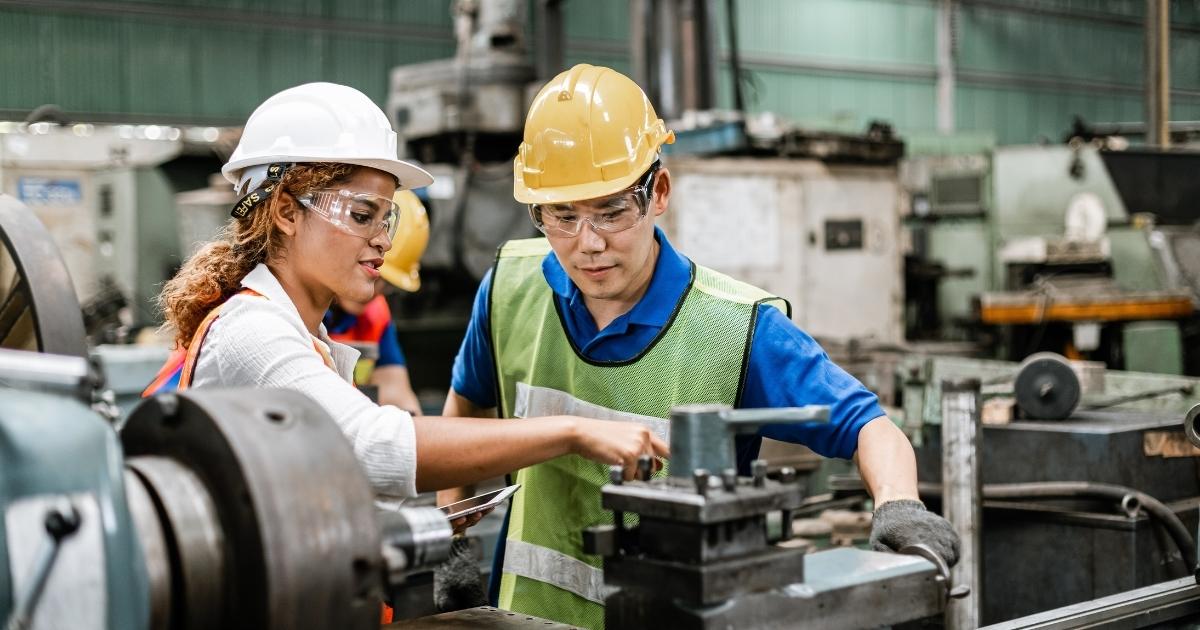 A year since the Inflation Reduction Act (IRA) was signed into law, this historic climate legislation has already led to $278 billion in private investment that will support more than 170,000 clean energy jobs across the country.
And the work is just getting started.
Manufacturing incentives in the law, which encourage companies to build the clean energy supply chain here in the U.S., are creating manufacturing jobs and new economic opportunities for communities. According to the BlueGreen Alliance, the IRA will spur an estimated 900,000 U.S. manufacturing jobs over the next decade. The law also pairs incentives with labor standards that protect and prepare workers by requiring fair wages and apprenticeships.
Get to know some of the towns and communities around the country that are winning these major manufacturing investments and getting ready to build the clean energy technologies that will power our future.
Schenectady, New York: GE Vernova is creating 200 wind manufacturing jobs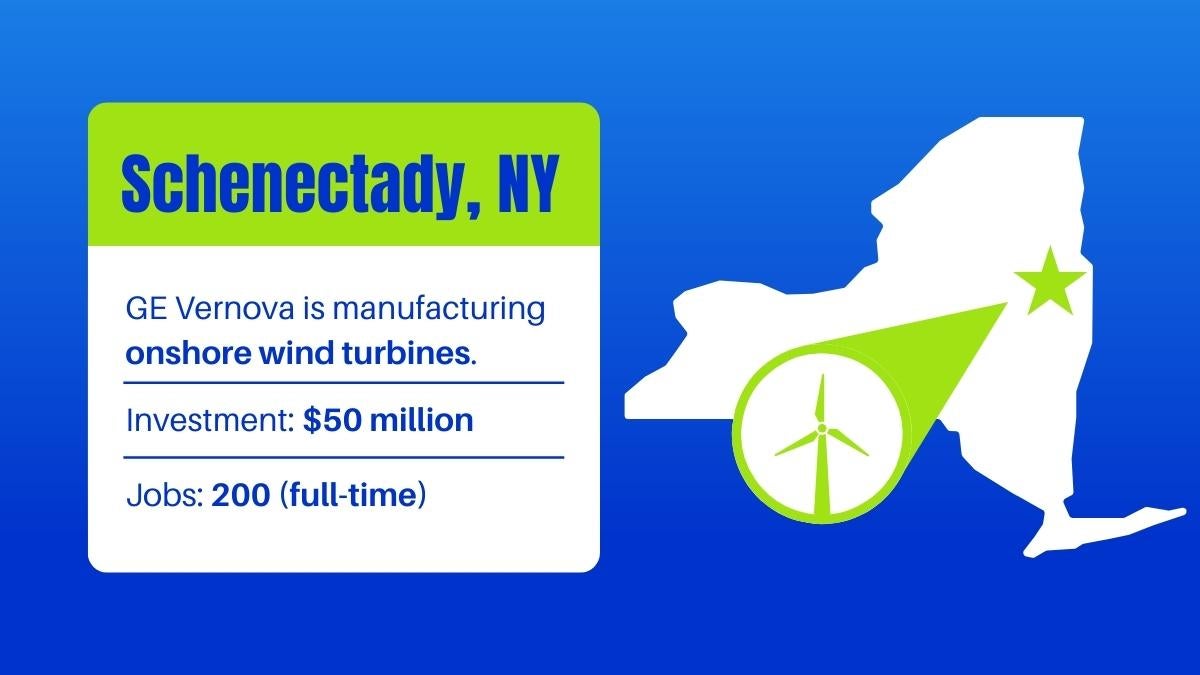 In May 2023, GE Vernova announced a $50 million investment in its Schenectady facility — a move that will create 200 full-time jobs building a new manufacturing assembly line for its onshore wind turbines. These jobs include skilled union operators, manufacturing engineers, and frontline leadership. When asked what drove GE's decision, Roger Martella, chief sustainability officer at GE and vice president of Government Affairs and Sustainability at GE Vernova, credited the Inflation Reduction Act: "We were able to announce this project due to the certainty of the IRA and the domestic content guidance." (Read more of Roger's interview with EDF's Victoria Mills here.)
GE's announcement builds on Schenectady's long history of driving innovative energy technology. In 1886, inventor Thomas Edison relocated Edison's Machine Works to the city, which eventually renamed to General Electric Company. "General Electric has a long and illustrious history in New York State and has been a leader in cutting-edge innovation for well over a century," said Governor Hochul in a statement. "We are proud to partner with GE Vernova to realize New York's vision of become a leading manufacturing hub for wind technology…"
Queen Creek, Arizona: LG Energy Solution's investment is turning this town into a battery manufacturing powerhouse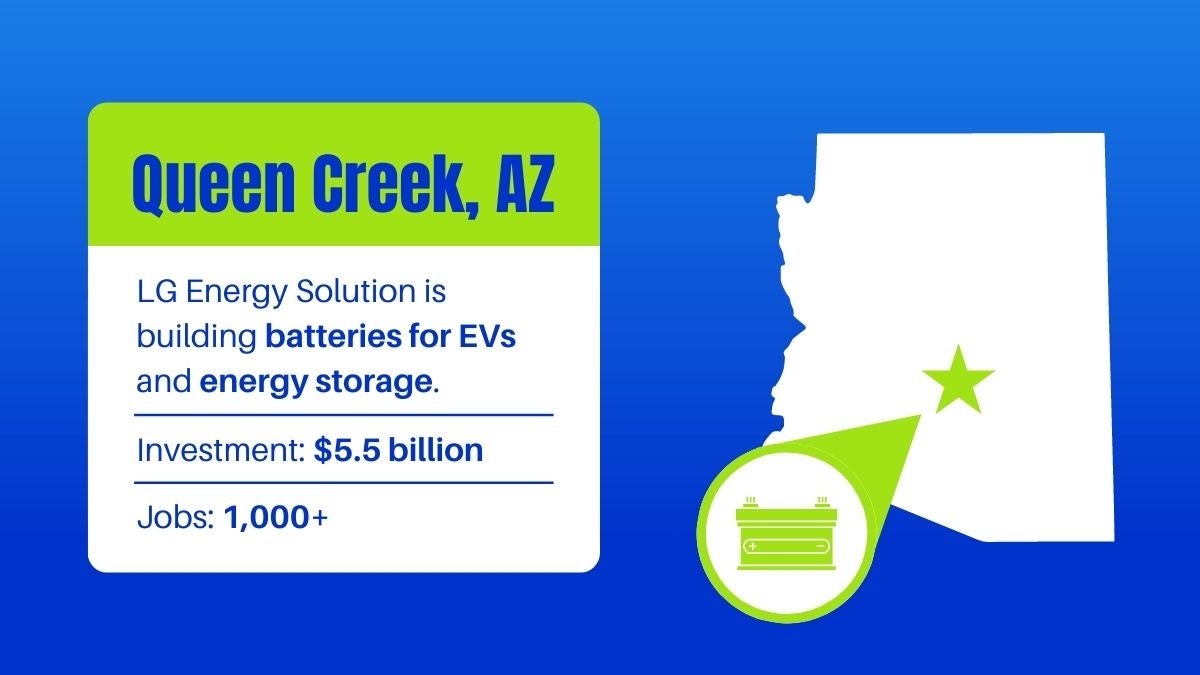 Queen Creek, a suburb southeast of Phoenix, is now the site of the largest investment in a single battery facility in all of North America. LG Energy Solution, which manufactures batteries for electric vehicles and energy storage devices, announced in March 2023 that it is quadrupling its initial investment in its Queen Creek battery manufacturing complex, bringing the total investment to $5.5 billion. While production is not scheduled to begin until 2025, LG is expected to be Queen Creek's single largest employer. As Mayor Julia Wheatley explained in a statement, the investment "will create a positive ripple effect for the region and the state, bringing local jobs, infrastructure and capital investment."
LG's expansion is one of the latest in a series of major battery and electric vehicle manufacturing investments that Arizona has landed since the passage of the Inflation Reduction Act — helping to cement the state's reputation as "an innovation hub for renewable energy," Governor Katie Hobbs said.
Bryan County, Georgia: Hyundai Mobis to create over 1,000 jobs with new EV Supplier Plant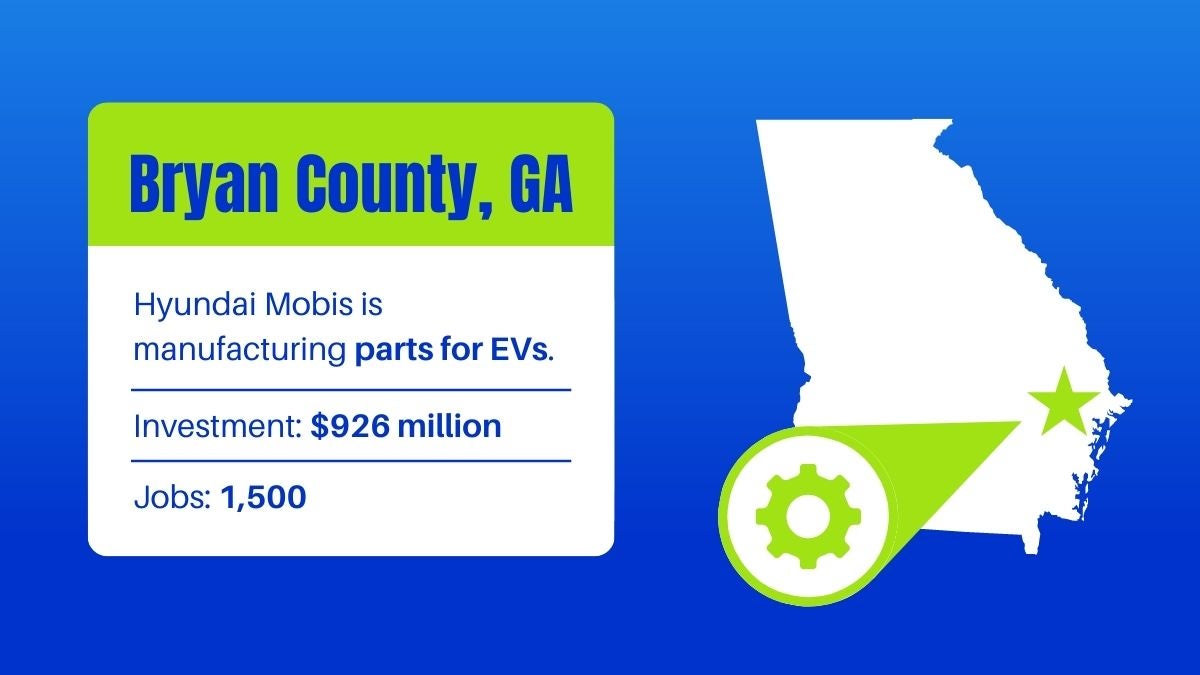 Georgia's EV industry has seen explosive growth in the past few years, with more than 30 EV-related projects and 18,000 jobs announced since 2020. Bryan County, located along the Georgia coast near Savannah, is one of the latest communities to see massive investment and jobs from the EV supply chain that's being incentivized by the IRA. Hyundai Mobis, a large automotive supplier, will invest $926 million in a plant that will build powertrains for Hyundai's EVs. This plant alone is expected to create 1,500 new jobs and complements Hyundai Motor Group's investment in an EV and battery manufacturing facility, also conveniently located in Bryan County.
In a statement, H.S. Oh, Vice President of Hyundai Mobis Electric Powertrain Business Unit, said the company's announcement reflects "an acceleration in the development of the EV supply chain in Georgia's auto industry," and that Mobis is "looking forward to providing high-quality work opportunities to the growing local workforce." Georgia Quick Start, a state-funded workforce training program with a strong track record of preparing workers for new clean tech opportunities, is expected to help train workers in the state for these rapidly growing EV jobs.
Pueblo, Colorado: CS Wind expands world's largest wind turbine tower manufacturing plant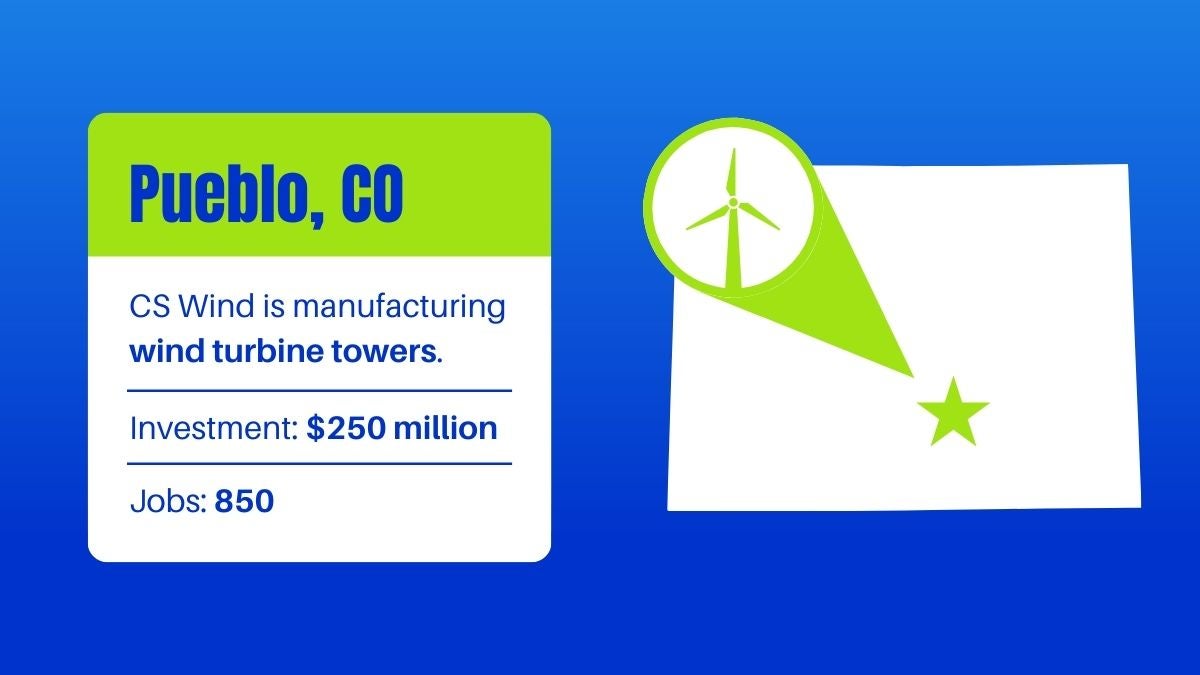 CS Wind, a major supplier for global wind power companies, is expanding the world's largest wind turbine tower manufacturing plant in Pueblo. Fueled in part by the IRA, its expansion will more than double the company's wind turbine tower production, boosting overall production to some 10,000 turbine tower sections a year and creating 850 new jobs.
Manufacturing has been a big driver of Pueblo's economy since 1880s, starting with steel production. Over the years, the town has seen its manufacturing base expand into the aerospace industry, as well as building materials like brick and cement and more recently, clean energy. As Pueblo Mayor Nick Gradisar told The Pueblo Chieftain, "That proud manufacturing history continues with this facility and the expansion of this facility. It will ensure that we'll continue to have manufacturing that will make big things in Pueblo and in the United States for decades to come." To ensure that employees get the skills they need, CS Wind plans to work with Pueblo Community College to provide workforce training programs.
Marshall, Michigan: Ford is building lower-cost batteries to power its growing EV fleet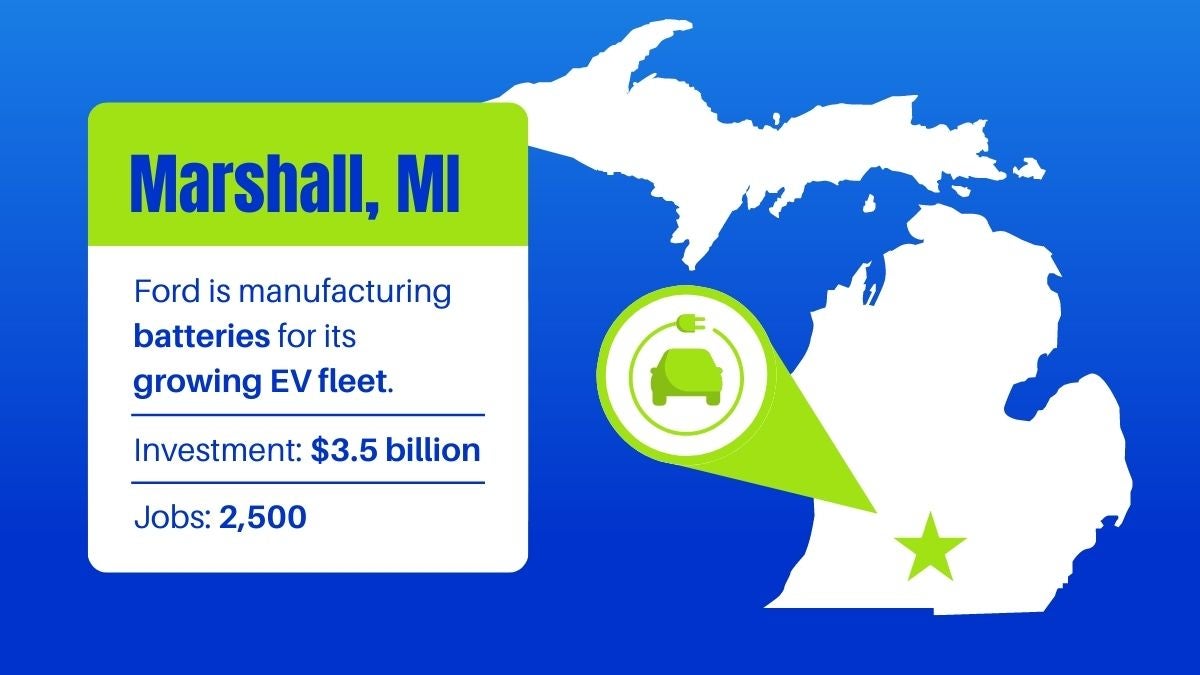 Michigan, long known for its automotive industry, is moving toward a clean, electric future. Marshall, a town of nearly 7,000 people, may be the new epicenter of that shift. Ford Motor Company announced in February 2023 that it plans to invest $3.5 billion in a new EV battery manufacturing facility in Marshall, creating 2,500 jobs. The company will partner with Contemporary Amperex Technology Co. Ltd (CATL), the world's largest battery company, to produce batteries with a different chemistry — called lithium iron phosphate (LFP) batteries — which are expected to be lower cost. Initial battery production at the plant is slated for 2026, and Ford says it will be capable of powering 400,000 of its future EVs.
Ford's investment, which will benefit from IRA incentives, could be game-changing for Marshall. As Marshall Mayor Jim Schwartz described in a statement, "This investment in the local community will lead to an influx of new jobs to Marshall and economic development throughout the area." In fact, the State of Michigan expects that the new Ford factory will generate over $29.7 billion in personal income through direct jobs and jobs created by new economic growth and local spending over the next 20 years.