Editor's note: This post was last updated June 29, 2021.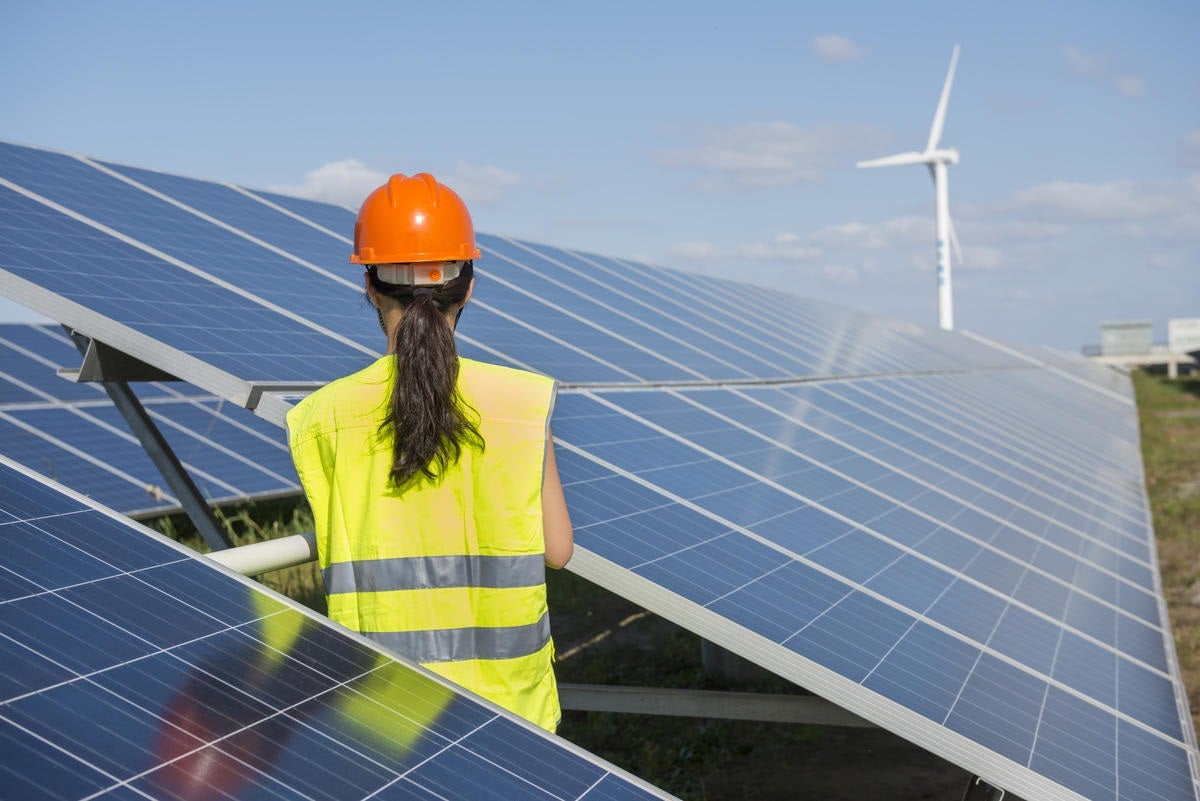 At the Leaders Summit on Climate in April, President Biden pledged to go all-in to beat the climate crisis, setting an ambitious and credible target to cut U.S. greenhouse gas emissions 50-52% below 2005 levels by 2030. Now the administration and federal law makers must roll up their sleeves and work to achieve this target. The question is: What policies will they adopt that can secure the necessary cuts in pollution in less than 10 years?
While there are multiple pathways to meeting the target, a wide range of analyses agree on one core theme: The power sector is a critical linchpin to success. We need to cut emissions from electricity generation by at least 80% below 2005 levels by 2030.
To meet this emissions challenge, federal lawmakers must deliver strong policy that swiftly brings more clean energy sources online while creating new, good-paying jobs and slashing air pollution in the process. Advocates, power companies and the public are already demanding ambitious action in the power sector. Therefore, a national policy that ensures deep cuts in pollution from the power sector is the most important step we can take to put the country on the path to a safer climate.
Crunching the numbers
Before President Biden's announcement of the new U.S. emissions target for 2030, multiple independent analyses scoped out the path to a bold U.S. Nationally Determined Contribution (NDC), from a range of groups including Environmental Defense Fund, Natural Resources Defense Council, America is All In, the University of Maryland and others. Despite using different policy assumptions, they all found that cutting power sector emissions around 80% below 2005 levels by 2030 is an essential step toward reaching the overall target. In fact, reductions in power plant pollution will have to deliver the majority of the reductions necessary to achieve the NDC, as shown below.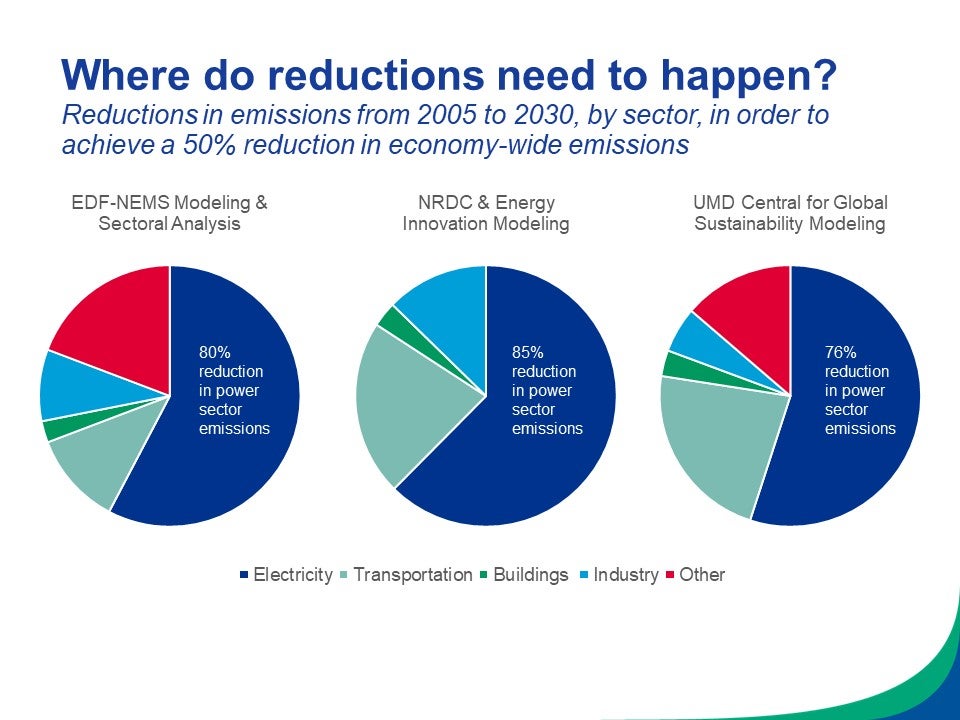 This level of ambition is not only key for cutting emissions from power sector and ultimately reaching President Biden's promise to achieve 100% clean electricity by 2035.  It is the key that unlocks reductions in other sectors like transportation, buildings and industry by allowing these sectors to increasingly rely on clean electricity instead of burning fossil fuels.
An enforceable standard that locks in pollution cuts is critical
While emissions are likely to continue to fall as wind and solar power become even more cost-competitive, the power sector will still fall well short of the reductions that are needed without policies that further accelerate progress and lock in the needed reductions.
President Biden's American Jobs Plan includes a number of important proposals to ramp up clean energy, including incentives like long-term extension of renewable tax incentives and new tax credits for storage and transmission. These proposals are essential building-blocks and will help grow the amount of clean energy on the grid and spark job creation. However, the essential policy to guarantee the needed 80% reduction from the power sector is a clean electricity standard (CES) that 1) focuses on cutting pollution and 2) includes an enforceable standard with a mechanism to ensure compliance.
1. A CES should be designed to deliver what matters: cuts in pollution. A CES crafted solely to achieve a percentage of carbon-free energy sources, without incorporating emissions performance into the design, will not guarantee that pollution goals are hit. In fact, depending on how quickly demand grows in the electric sector, how "clean energy" is defined, and how assumptions about technology costs play out over the decade, the emissions outcomes from such a policy could vary significantly and deliver results well below expectations. Any CES should be designed to achieve the metric that matters for the climate crisis: quantifiable and definite reductions in carbon pollution.
2. To guarantee that 80% cut in carbon pollution, a CES must be designed to include a strong compliance obligation: a binding requirement placed on the companies that either generate or deliver electricity. This is critical because compliance rates are much lower when enforcement is not tightly woven into policy design.
One of the best examples of smart power sector policy design that included these key enforcement elements is EPA's Acid Rain Program. The program had a strong compliance obligation – a limit on sulfur-dioxide pollution from coal-fired power plants that was enforced by requiring each facility to report its SO2 emissions and hold a permit for every ton of pollution emitted. A few key features made the program a success: it was simple (one ton of SO2 pollution = one permit), it was transparent (there was a centralized tracking system which ensured everyone had the same data, increasing confidence in the outcomes), and enforcement was built in (with automatic penalties that far outstripped the cost of compliance). The result? With strictly limited permits available, pollution reduction goals were met on time and the program achieved over 99% compliance with little additional enforcement. The success of this program shows just how much there is to gain from ensuring thoughtful CES compliance design.
And of course, a focus on carbon pollution and enforceability are not the only critical pieces of a CES. There are other crucial goals that can — and should be — incorporated in a CES, including:
Program features designed to accelerate air quality improvements in communities that have borne disproportionate pollution burdens, including communities of color which are often located closer to power plants because of discriminatory policies and practices.
An economic incentive to invest in new zero-carbon electricity generation while maintaining existing zero-carbon capacity
Consumer protection across all regions, recognizing variability in clean resource availability and variability in the starting point
The flexibility necessary to ensure the entire power sector is maximizing its potential to cut pollution as quickly as possible
Power companies, states are already on the path to 80%
Power companies and advocates across the country recognize that bold action in the power sector is the right move for tackling the climate threat and building a stronger clean economy. In April, 13 power companies representing a diverse range of rural electric cooperatives, municipal utilities, vertically integrated companies, and independent power producers, wrote to President Biden, pledging their readiness to work with the administration and federal lawmakers to implement a range of policies to clean up the power sector, including a "clean electricity standard that ensures the power sector, as a whole, reduces its carbon emissions by 80 percent below 2005 levels by 2030."
These leading companies emphasized the importance of a federal policy framework that provides "the certainty that the emissions reductions needed from the power sector will be achieved."  They also highlighted the feasibility of a CES, writing that it can be designed to support "the power sector's deployment of strategies that are technically feasible, ensure reliability, and maintain affordability for customers."
Over a dozen power companies have made specific commitments to achieve an 80% reduction in carbon emissions from their operations by 2030 across the nation — from companies serving Washington state to Indiana to West Virginia to Maine. That group includes Xcel Energy, which is slashing emissions across its eight-state midcontinent service territory, including in Colorado where the company is pushing even further and recently filed a plan to achieve an 85% reduction by 2030. American Electric Power, serving five million customers including throughout Appalachia, has made an 80% reduction commitment.
Leading companies such as Portland General Electric, Puget Sound Energy, Exelon and Talen Energy are not just stepping up to advocate for federal solutions while reducing their own emissions, but also are supporting strong state-level climate policies such as those that are designed to slash power sector pollution in the Pacific Northwest and Pennsylvania.
States are also recognizing the urgency of action. The Oregon legislature passed a CES that guarantees an 80% reduction in power sector emissions by 2030, Colorado adopted legislation in 2019 that requires an 80% reduction in emissions by 2030 for its largest utility, and the Arizona Corporation Commission recently advanced a mass-based CES that, while not as ambitious as necessary, will cut emissions in half by 2032.
And it's not just power companies and state leaders backing a CES. A wide coalition of state, regional, and national organizations have also urged the White House and Congress to require major increases in zero-carbon power generation and ensure that the power sector achieves that critical 80% reduction goal. All of these developments are arriving on the heels of polling that has consistently shown strong voter support for a 100% clean U.S. grid by 2035. In fact, a recent survey shows the particular importance of delivering climate-related policies in the American Jobs Plan—including those that significantly cut climate pollution and expand the development and use of clean energy.
Making a cleaner power sector a reality
With less than 10 years to cut overall emissions at least 50%, the Biden administration has a short window of opportunity to seize this momentum and work with Congress to make significant headway in the power sector. Advancing policy that prioritizes the deployment of clean energy while ensuring emissions will decline at the pace and scale necessary will be a vital metric for success on the national emissions goal.
Now that the bar for action has been set, the Biden administration and Congress need to go bold on a clean electricity standard that can get the job done. Getting on a pathway to a safer, clean energy future demands it.
Read this fact sheet on a clean electricity standard.