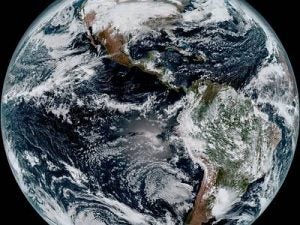 The Trump administration just released its updated plan of action for rolling back our some of our most important protections against dangerous climate pollution.
In store for this summer: final attacks on crucial climate safeguards that help keep you and your family safe.
Right now, the science is calling for dramatically accelerated climate progress. Extreme weather is threatening homes and communities. Yet the Trump administration is determined to take us backwards, putting communities at risk and squandering the economic opportunities we have from made-in-America solutions.
Here's what we know about upcoming threats to limits on three major climate protections – measures to reduce pollution from cars, power plants, and oil and gas facilities:
Slamming the brakes on clean car progress
The Trump administration is poised to finalize a major attack on national and state clean car protections.
Clean car standards are an American success story. In place for nearly a decade, these limits on climate pollution from cars have spurred major improvements in fuel efficiency — meaning they reduce pollution and save drivers money.
Trump's rollback would bring this progress to a screeching halt, dramatically increasing pollution and ceding American clean car innovation and leadership while undermining our competitiveness in the global marketplace. In fact, the administration's own analysis of their proposed approach found it would result in more than seven billion more tons of climate pollution (pg. S-18) and 60,000 lost jobs (Table VII-5). A recent report indicates a clean cars rollback may put thousands of lives at risk from increased pollution.
The administration is also poised to attack long-standing state authority to implement protective clean car policies. Fourteen states across the country have committed to an advanced clean car program to protect their citizens — but the Trump administration wants to shut it down.
What's driving this senseless attack? A New York Times expose found that oil company interests have played a major role.
The Clean Power Plan under threat
Also planned for this summer: a major attack on the Clean Power Plan, our only national limits on climate pollution from power plants.
EPA Administrator Andrew Wheeler has sent a draft rule that would roll back the Clean Power Plan to the White House for review – a step that suggests the final rule is close to being finalized and released.
If this final rule looks anything like the hopelessly flawed and inadequate proposal that was released last August, it will scrap the Clean Power Plan in favor of a "do-nothing" program that could actually increase pollution from inefficient, highly-polluting coal-fired power plants.
Wheeler's plan contains no binding limits on carbon pollution. EPA's own analysis of his proposal found it would result in massive increases in climate pollution and health-harming soot and smog pollution when compared to the Clean Power Plan, causing up to 1,630 additional premature deaths from air pollution and tens of thousands of additional childhood asthma attacks each year by 2030.
Wheeler's proposed replacement completely fails to consider the rapid reductions in climate pollution that scientists say are necessary to avoid the worst impacts of climate change – as well as recent clean energy trends that make it possible to cost-effectively achieve far greater and faster reductions in that pollution than the Clean Power Plan originally contemplated.
Rolling back common-sense methane pollution limits for oil and gas facilities
The oil and gas sector is the largest industrial source of methane, a highly potent greenhouse gas. In 2016, EPA issued protections to limit this pollution, including by requiring that oil and gas facilities swiftly address leaking equipment that creates serious environmental and health risks and wastes valuable energy resources.
Early attempts by the Trump administration to delay implementation of these protections were rejected by the courts or abandoned after a public outcry.
Nevertheless, Wheeler last year proposed to weaken these national standards – a step that would increase methane pollution from new and modified oil and gas facilities by more than 40 percent — even though EPA acknowledged that the agency's own analysis did not support a weakening of the current standards and instead found they are even more cost-effective than anticipated.
The Trump administration recently underscored that it will move ahead with this rollback, and even with plans to entirely eliminate standards for methane pollution from oil and gas facilities.
The Trump administration's plan is at odds with progress at the state level. Colorado already has methane pollution standards in effect, and under new legislation the state will move ahead with even more protective standards.  Pennsylvania has adopted standards, and Governor Michelle Lujan Grisham of New Mexico has directed the state to move ahead with controlling methane waste and pollution resulting from oil and gas development.
A trifecta of dangerously bad ideas
The Trump administration's plans would weaken or eliminate win-win standards that reduce air and climate pollution while spurring fuel efficiency, low-cost clean energy, and economic opportunity and jobs.