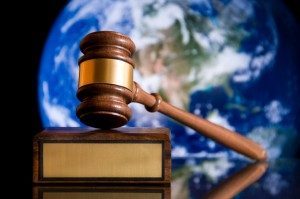 This summer was anything but quiet for climate policy.
In June, President Trump announced that the U.S. would withdraw from the Paris climate agreement.
In July, the U.S. Court of Appeals for the District of Columbia Circuit blocked Environmental Protection Agency (EPA) Administrator Scott Pruitt's attempt to suspend protections from climate-destabilizing oil and gas pollution, calling the move "unauthorized" and "unreasonable."
In August, two judges of the same court reminded EPA of its "affirmative statutory obligation to regulate greenhouse gases," citing longstanding Supreme Court precedent.
Now, the devastation caused by Hurricane Harvey and the record strength of Hurricane Irma are showing us what's at stake, as sea level rises and extreme weather becomes more frequent.
Meanwhile, Administrator Pruitt has continued his pattern of deeply misleading statements about climate change and EPA's responsibility to protect public health and the environment.
Pruitt uses these statements in an attempt to justify rolling back vital public health and environmental safeguards. In just his first four months in office, he took action against more than 30 health and environmental protections, including the Clean Power Plan — our first and only national limit on carbon pollution from existing power plants.
As America's proven, life-saving environmental protections come under attack, here are four facts about climate law and science to help cut through Pruitt's distortions.
EPA has an affirmative statutory obligation to regulate climate pollution
Administrator Pruitt frequently questions EPA's ability and authority to regulate climate pollutants under the Clean Air Act. But contrary to Pruitt's claims, the Supreme Court has repeatedly ruled that the Clean Air Act covers climate pollution.
In Massachusetts v. EPA, the Court held that climate pollutants "without a doubt" and "unambiguous[ly]" meet the definition of "air pollutant" under the Clean Air Act.
In its subsequent American Electric Power v. Connecticut (AEP) opinion, the Supreme Court found that section 111 of the Clean Air Act — the section under which EPA issued the Clean Power Plan — "speaks directly" to the regulation of climate pollution from existing power plants. (Even opponents of climate protections conceded that point during oral argument.)
The Court again recognized EPA's authority to regulate climate pollution in a third decision, Utility Air Regulatory Group v. EPA (UARG).
Former EPA administrators serving in both Republican and Democratic administrations have recognized that "Congress has already made the policy decision to regulate" air pollutants that EPA determines — based on scientific factors — endanger the public health or welfare.
That's why we now enjoy protections from air pollutants like cancer-causing benzene, brain-damaging lead, and lung-impairing particulates. We may not have had those protections if former EPA Administrators had shared Pruitt's myopic view of the agency's responsibility under the Clean Air Act.
As the Supreme Court stated in Massachusetts v. EPA, Congress:
underst[oo]d that without regulatory flexibility, changing circumstances and scientific developments would soon render the Clean Air Act obsolete. The broad language … reflects an intentional effort to confer the flexibility necessary to forestall such obsolescence.
In issuing the Clean Power Plan and other climate protections, EPA scrupulously fulfilled the mandate with which Congress entrusted it. The Clean Power Plan also reflected the Supreme Court's finding in AEP that climate pollution from existing power plants was covered by section 111.
Administrator Pruitt has seriously misconstrued judicial rulings that conflict with his policy goals.
For example, he claimed that the Supreme Court's UARG decision "said the authority the previous administration was trying to say that they had in regulating carbon dioxide wasn't there."
Pruitt overlooks the fact that the UARG opinion upheld the vast majority of what EPA had done, including the requirement that sources subject to certain permitting obligations under the Clean Air Act utilize "best available control technology" for climate pollution. The Supreme Court only took issue with EPA's potential regulation of a subset of sources constituting a small percentage of total emissions, which did not implicate EPA's fundamental obligation to regulate climate pollution.
2. EPA's obligation to regulate climate pollution is based on scientific factors, not the Administrator's policy preferences
Administrator Pruitt's most dangerous Supreme Court misinterpretation might be his twist on Massachusetts v. EPA, a landmark decision that set the foundation for many of the climate protections that followed.
In Pruitt's reading, when it comes to climate pollution, the Supreme Court held only that EPA "must make a decision whether [to] regulate or not."
But the Supreme Court actually held that EPA was required to determine — again, based on scientific factors — whether climate pollution endangers public health or welfare.
In 2009, EPA concluded that climate pollution indeed poses a clear danger to public health and welfare, based on an exhaustive review of an expansive array of published studies and surveys of peer-reviewed literature prepared by the U.S. government's Global Change Research Program, the National Academy of Sciences, and the Intergovernmental Panel on Climate Change.
The D.C. Circuit upheld this Endangerment Finding against a barrage of legal attacks, finding that it was based on "substantial scientific evidence."
After issuing the Endangerment Finding, EPA was statutorily obligated to follow the Clean Air Act's process for regulating the dangerous pollution.
Administrator Pruitt's position more closely resembles the losing argument in Massachusetts v. EPA. The George W. Bush Administration had justified its decision not to regulate climate pollution based on factors completely unrelated to public health or welfare. But the Supreme Court brushed aside EPA's "laundry list of reasons not to regulate" and ruled that the agency was not free to — in Pruitt's words — "make a decision" not to regulate. Rather, EPA must conduct a science-based evaluation of the risks that climate pollution poses to public health and welfare, and if the science supports an Endangerment Finding, regulation must follow.
3. The scientific evidence of climate change is overwhelming
Climate change is happening now. As climate pollution continues to accumulate in the atmosphere, it will bring melting sea ice and glaciers, rising sea levels, and more extreme weather including heat waves, floods, and droughts.
Administrator Pruitt attempts to minimize this threat by focusing on uncertainty. In Pruitt's parlance, we still have more to learn about "the precision of measurement" when it comes to the effects of climate pollution. But the fact that there are still productive areas for research doesn't mean we should disregard the vast amount that we already know.
As the American Meteorological Society recently told a different Trump Administration official:
[S]kepticism and debate are always welcome," but "[s]kepticism that fails to account for evidence is no virtue.
In Massachusetts v. EPA, the Supreme Court held that EPA cannot decline to regulate climate pollution due to:
some residual uncertainty … The statutory question is whether sufficient information exists to make an endangerment finding.
EPA answered that question in its 2009 Endangerment Finding, and since then, the overwhelming scientific evidence for human-caused climate change has continued to grow.
In the final draft of the U.S. Global Change Research Program's latest Climate Science Special Report — which is currently under review by political officials in the Trump Administration — climate scientists determined that, in the last few years:
stronger evidence has emerged for continuing, rapid, human-caused warming of the global atmosphere and ocean.
The year 2016 marked the third consecutive year of record-high global surface temperatures, and 2017 marked the third consecutive year of record-low winter Arctic sea ice. Meanwhile, the rate of sea level rise is increasing.
In contrast to the extensive scientific research demonstrating the role of climate pollution in destabilizing our climate, Administrator Pruitt has proposed a (possibly televised) "red team/blue team" exercise in which opposing teams of government-selected experts debate climate science.
Christine Todd Whitman, who served as EPA Administrator under President George W. Bush, characterized the red team/blue team exercise as "a shameful attempt to confuse the public into accepting the false premise that there is no need to regulate fossil fuels."
Pruitt has acknowledged that he is "not a scientist" but nonetheless suggested that his red team/blue team exercise would represent "what science is all about." Anticipating that some scientists might be reluctant to participate, he taunted:
If you're going to win and if you're so certain about it, come and do your deal.
But for most scientists, their "deal" is a careful process of observation, experimentation, and peer review — even when it doesn't fit between commercial breaks.
However Pruitt manages his red team/blue team exercise, it can't alter the conclusions of the massive body of climate research developed by thousands of scientists over decades of conscientious inquiry.
4. The American public supports policies to address climate change
One argument that Administrator Pruitt advanced for his red team/blue team exercise is that "the American people would be very interested in consuming that."
Actually, Americans in every state have already shown an appetite for addressing climate change.
A recent survey found that large majorities of Americans support regulating greenhouse gases as a pollutant, setting strict carbon dioxide limits on existing coal-fired power plants, and requiring utilities to produce 20 percent of their electricity from renewable sources.
In fact, each of those policies garnered majority support in every Congressional district in America.
A majority of Americans opposed the decision to withdraw from the Paris climate agreement, as did the CEOs of many prominent businesses.
And the Clean Power Plan was supported in court by a broad and diverse coalition of 18 states, 60 cities, public health experts, leading business innovators (including Google, Apple, Amazon, and Microsoft), leading legal and technical experts, major consumer protection and low-income ratepayer organizations (including Consumers Union and Public Citizen), faith groups, more than 200 current and former members of Congress, and many others. (You can read their legal briefs on EDF's website.)
Administrator Pruitt's legal and scientific distortions show no sign of abating, and neither does his destructive rollback of public health and environmental protections. But his efforts have been rife with legal deficiencies. As EDF President Fred Krupp recently wrote, Pruitt "may have finally met his match: the law."
Shortly after the D.C. Circuit blocked Pruitt from suspending protections from oil and gas pollution, and in the face of legal challenges from EDF and many others, Pruitt withdrew his unlawful delay of another Clean Air Act protection – the implementation of a national health-based smog standard.
EDF will continue to demand that Pruitt fulfill his solemn responsibility to protect the health of our communities and families under our nation's bipartisan and time-tested environmental laws.