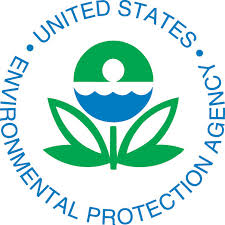 In the few months of Environmental Protection Agency (EPA) Administrator Scott Pruitt's tenure, we've already seen ample cause for concern when it comes to how he spends his time – a steady stream of meetings with major industry, together with rollbacks that harm communities and put children's health at risk.
Last week, we learned that Administrator Pruitt gathered with the American Petroleum Institute board of directors at the Trump Hotel early in his tenure, just weeks before carrying out a host of actions to benefit oil and gas polluters. Just one of those actions — delaying implementation of a national smog health standard — will alone will result in 230,000 more asthma attacks for kids.
These actions have been taken with no meaningful public input or engagement. Meanwhile, the intermittent information we glean about Administrator Pruitt's calendar and his schedule underscores his extensive meetings and visits with major industry.
Underlying these distressing developments, there's something even more fundamental at play. How has the American public learned how Administrator Pruitt, a taxpayer-funded public servant, spends his time? How have we gotten information on the company he keeps?
Under past EPA Administrators, the calendars of senior managers — including the Administrator — were released to the public via accessible, concurrent platforms.
Troublingly, Scott Pruitt has ended this practice. We've only gotten information about his activities through intermittent information shared with the press, or months after the fact through time-consuming, burdensome Freedom of Information Act requests.
EDF calls on Pruitt to follow long-standing EPA practice and make his calendar public
EPA has an important job to do on behalf of the American public — protecting our health and welfare from dangerous pollution. Without timely information on the activities and schedule of Administrator Pruitt and his senior staff, members of the public cannot have full confidence that EPA's leadership is working on their behalf.
Administrator Pruitt's lack of transparency raises serious questions about potential abuse of EPA's limited resources for activity that contravenes or is in serious tension with important legal and ethical requirements.
That's why today EDF called on Pruitt to make his schedule, and that of his senior officials, available to the public on a widely accessible platform. Administrator Pruitt should immediately carry out this fundamental transparency practice, followed by EPA administrations of both parties. EDF is simultaneously submitting a Freedom of Information Act request to obtain this information — a public record — in order to assure that the public at least obtains more up to date information on Pruitt's activities.
EPA is supposed to operate "in a fishbowl"
The important transparency practice of sharing senior policy leaders' schedules has a long history at EPA.
In 1983, William Ruckelshaus — the first EPA Administrator — was brought back to lead EPA by President Ronald Reagan in order to restore public trust after the scandal-plagued tenure of Administrator Anne Gorsuch. One of Administrator Ruckelshaus' first actions was to issue was his "Fishbowl Memo," which vowed that EPA would "operate in a fishbowl" and "attempt to communicate with everyone from the environmentalists to those we regulate and we will do so as openly as possible."
Ruckelshaus' Fishbowl Memo adopted as EPA policy a number of specific activities that are the hallmark of fair and transparent government. In particular, Ruckelshaus included a commitment to share senior leadership schedules as the Memo's very first transparency directive:
In order to make the public fully aware of my contacts with interested persons, I have directed that a copy of my appointment calendar for each week be placed in the Office of Public Affairs and made available to the public at the end of the week. The Deputy Administrator, and all Assistant Administrators, Associate Administrators, Regional Administrators, and Staff Office Directors shall make their appointment calendars available in a similar manner.
This commitment to transparency and public access to EPA calendars has continued across administrations. For example, Administrator Lisa Jackson echoed this commitment upon her arrival, writing that "[t]o keep the public fully informed of my contacts with interested persons," she would make available to the public, every day via the EPA website, "a working copy of my appointment calendar, showing meetings with members of the public." She directed her senior staff to do the same. Administrator Gina McCarthy and Acting Administrator Catherine McCabe similarly continued this practice.
Yet Administrator Pruitt has ended the foundational transparency measure of making his and his senior policy leaders' schedules readily available to the public. The policy change is illustrated by these two snapshots of EPA's website from six months apart.
EPA's website on January 19, 2017: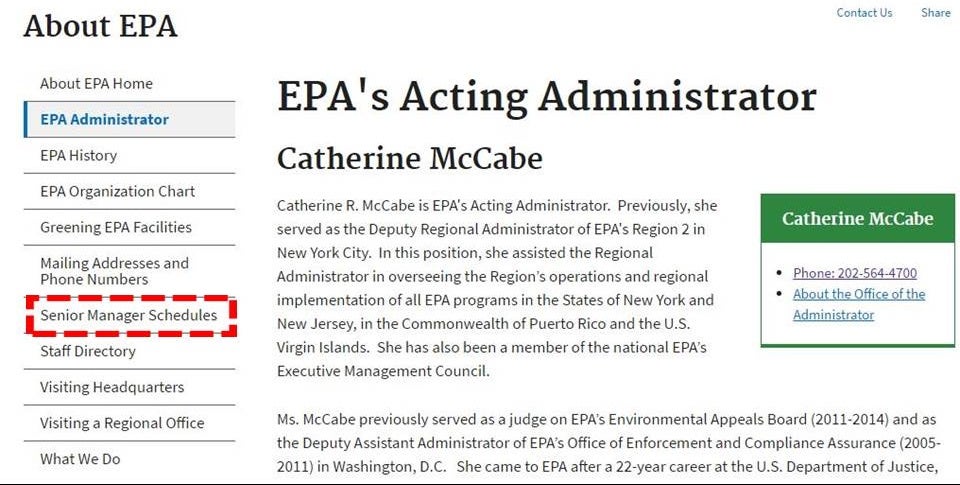 And the same page today: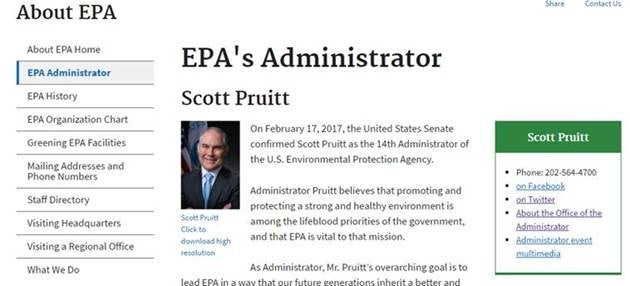 A true back to basics approach
Pruitt has recently made a show of focusing on "EPA Originalism" and getting EPA "Back to Basics." We suggest he follow long-standing EPA practice and the guidance of EPA's original Administrator, William Ruckelshaus. Pruitt should make his calendar, and those of his senior leadership, widely and promptly available to the public.