The Clean Air Act has a long, well-documented history of reducing pollution, and thus improving – and often even saving – lives in America.
This bedrock law represents one of the greatest environmental and health success stories in the world. Gross Domestic Product in the U.S. has grown 246 percent over the life of the Clean Air Act while at the same time pollutants have been reduced 71 percent.
The Clean Air Act has led to enormous innovation in technology
The Clean Air Act has helped launch innovation in technologies that reduce pollution –technologies which in many cases can be exported around the world.
We know from previous experience with standards we adopted to reduce sulfur dioxide emissions from power plants in 1971 and 1979 that pollution standards can reduce emissions substantially, and that the more the technology is deployed to meet the standards the more costs go down. The Clean Air Act helped create a market demand for various pollution control technologies by creating standards for pollutants, including for sulfur dioxide. (Read more from technology experts who filed a legal brief in support of carbon standards for power plants)
America's homegrown environmental protection industry
The U.S. is the single largest producer of environmental technologies in the world, capturing 29 percent of the world's $1.05 trillion market.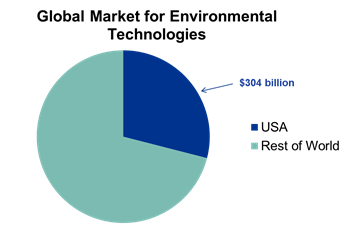 In 2015, there were an estimated 1.73 million jobs in the U.S. environmental industry, with projected growth of 3 to 4 percent over the next several years.
According to the U.S. government, 99 percent of the businesses in this industry were small to medium-sized. U.S. environmental companies exported about $48 billion in goods in 2013. At the same time, 2005 data from U.S. manufacturers indicate that their expenses for reducing pollution account for less than one percent of the value of the goods they ship.
Environmental protection standards can drive jobs in a myriad of sectors including manufacturing, engineering, construction, operations, and more.
Some examples of jobs and industries created by specific EPA clean air protections include:
Clean air saves lives and improves productivity
Cleaner air saves lives and protects the health of American families.
According to a landmark analysis, in 2010 alone the Clean Air Act prevented 160,000 deaths.
It also prevented 13 million lost workdays and 3.2 million lost school days because of illnesses and diseases caused or exacerbated by air pollution. The value of avoiding those lost work and school days in 2010 was approximately $2 billion.
That same landmark analysis estimates that the central benefits of the Clean Air Act outweigh costs by more than 30 to one.
The evidence is clear – environmental protection helps improves lives and grow the economy.