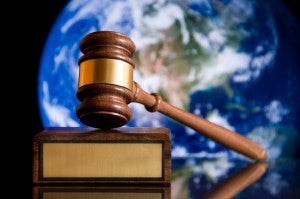 Earlier today the U.S. Court of Appeals for the D.C. Circuit heard oral argument on the Clean Power Plan — America's first-ever limits on climate pollution from power plants, which are our single largest source of this harmful pollution.
For the first time, these vital safeguards are being reviewed on the merits. Ten active judges on the D.C. Circuit presided over today's argument.
I was at the courthouse today. Here's my read out:
Judges' probing questions reflected their active engagement and preparation as anticipated in such a high profile case — as well as a skeptical view of opposing arguments
The judges today were prepared and engaged. They asked sharply probing questions of all sides.
But the big news is that a majority of judges appeared receptive to arguments in support of the Clean Power Plan.
The court understood that EPA was carrying out long-established legal authority — affirmed in three separate Supreme Court opinions — to tackle the urgent threat of climate change by addressing our nation's largest source of climate pollution.
Judge Millett characterized petitioners' arguments against EPA's authority as a "bait and switch"— one that would gut the Supreme Court's conclusion in an earlier groundbreaking case, American Electric Power, which concluded that Section 111(d) "speaks directly" to EPA's authority regulate greenhouse gases from existing power plants. (564 U.S. 410, 424, 2011)
Judges also recognized that the Clean Power Plan's approach reflects familiar, time tested strategies to reduce pollution — strategies that the Supreme Court and the D.C. Circuit have upheld in numerous past Clean Air Act programs adopted under administrations of both parties.
The judges' questions demonstrated their keen understanding of how the power sector works. Several judges underscored the unique nature of the interconnected electricity grid system —which distinctly enables sources to reduce emissions cost-effectively through shifting generation to lower-emitting sources — in discussing EPA's inclusion of generation shifting as part of the best system of emissions reduction reflected in the Clean Power Plan. Judge Tatel, for example, expressly recognized the point that generation-shifting strategies incorporated in the Clean Power Plan are "business as usual" for power companies.
Meanwhile, the judges expressed skepticism towards petitioners' claims. In one exchange, Judge Pillard questioned why petitioners' arguments would not entirely "immunize" highly polluting sources from pollution control.
Legal experts representing a wide variety of perspectives forcefully and effectively argued in support of the Clean Power Plan
A diverse and impressive suite of presenters argued in support of the Clean Power Plan.
Seasoned U.S. Department of Justice (DOJ) attorneys articulated the clear and compelling legal and technical basis for the Clean Power Plan, which was informed by an unprecedented level of public and expert input including more than four million public comments. The DOJ attorneys underscored how the Clean Power Plan's approach carefully respects statutory limits on EPA's authority and embodies well-established, proven strategies to reduce pollution.
The attorney representing power companies supporting the Clean Power Plan — a robust coalition that represents almost ten percent of America's electricity generation capacity —emphasized that the power sector is already reducing its carbon pollution by shifting to low-cost cleaner generation, making Clean Power Plan targets eminently achievable. For these companies, the carbon reduction strategies EPA recognized in the Clean Power Plan are "business as usual" — the phrase that was then raised by Judge Tatel later during the day. The power company attorney's remarks also emphasized that petitioners' approach would ask EPA to ignore the widespread strategies that power companies are already using to reduce carbon pollution cost-effectively through shifting generation to lower and zero emitting resources.
Counsel for the numerous states and cities across the country that are supporting the Clean Power Plan spoke on behalf of their citizens on the urgent need for protections against climate pollution. The state attorney's remarks highlighted how the rule's flexible approach echoes other traditional, successful Clean Air Act programs, and properly respects states' role in the interconnected electricity grid system.
Sean Donahue, counsel for public health and environmental organizations including Environmental Defense Fund, forcefully articulated the clear basis for EPA's authority and the urgent need to protect our communities, our families, and our economy against climate change. In particular, Donahue underscored that Clean Power Plan opponents seek to fundamentally obstruct any progress in addressing the most pressing environmental challenge of our time – climate change. Indeed, opponents of the Clean Power Plan have, in previous statements, conceded that EPA has authority to issue the Clean Power Plan — entirely undercutting their current claims to the contrary.
It's challenging to predict an outcome from oral argument
It's difficult to guess a case's outcome from any oral argument. That's even more true in today's case, which was heard by an en banc court – all ten active judges on the court, aside from Judge Merrick Garland who recused himself. With ten judges to observe and interpret, each with an individual perspective and background, prognostications are particularly challenging.
Nonetheless, we have many reasons for optimism after today's rigorous review of petitioners' claims. Most of all, the rock solid legal and technical foundation for the Clean Power Plan gives us confidence that climate protection can win the day.
Now, the judges deliberate
The judges now turn to deliberation and discussion. In a typical case, the D.C. Circuit can take several months to issue an opinion. Here, there is a true sense of urgency in resolving EPA's clear authority to combat climate change — earlier in the case, judges issued an order for expedited consideration — but there will also be ten judges' opinions to resolve. Our nation's biggest step to protect the health and well-being of our communities from climate pollution hangs in the balance.