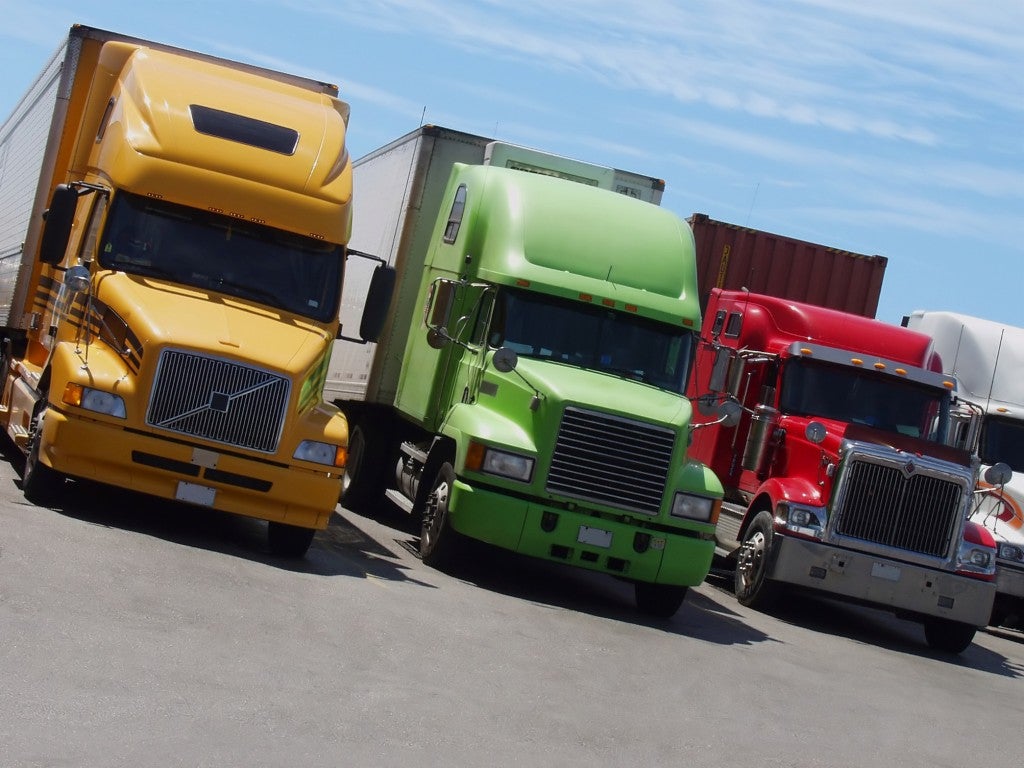 New and improved Clean Truck standards are coming soon.
The U.S. Environmental Protection Agency (EPA) and the Department of Transportation (DOT) are expected to imminently finalize new greenhouse gas and fuel efficiency standards for medium-and heavy-duty trucks and buses. The standards will apply to the freight trucks that transport the products we buy every day, as well as to buses and school buses, tractor-trailers, heavy-duty pickup trucks and vans, and garbage trucks. (They are separate from standards for cars and passenger trucks.)
EDF, together with a broad coalition of stakeholders, has consistently called for a protective cost-effective program that will curb climate pollution and reduce our nation's oil consumption while also driving innovative technologies that will stimulate economic growth and create high-quality domestic jobs.
Heavy-duty trucks consume almost 120 million gallons of fuel every day and emit more than 400 million metric tons of climate pollution annually. (These estimates do not include upstream emissions.) Freight movement is also one of the most briskly growing sources of greenhouse gas emissions and fuel consumption in the United States.
The upcoming second phase of Clean Truck standards will build on the first ever heavy-duty fuel economy and GHG program, which was finalized in 2011 with broad support from truck manufacturers, national security and veterans groups, labor, consumer, and health groups, and clean air advocates (including EDF). The success of the first phase Clean Truck program is already being demonstrated by the demand for more efficient trucks and the wide variety of efficiency technologies already available for consumers to choose from.
The second-phase Clean Truck standards will apply to vehicles manufactured years from now, beginning in model year 2021 and spanning later years.The nearly final standards are an important step forward in delivering climate, health and energy benefits.
EPA estimates the standards, as proposed, would:
Reduce carbon pollution by one billion tons and cut fuel use by 1.8 billion barrels of oil over the lifetime of the vehicles subject to the standards
Save vehicle owners $170 billion in fuel costs over the lifetime of the vehicles
Save the average American household $150 a year by 2030
Reduce harmful criteria and air toxic emissions by hundreds of thousands of tons annually
Increased Efficiency Provides Savings across the Entire Supply Chain
The average semi truck today burns 20,000 gallons of diesel a year – the same volume of fuel used by 50 new passenger cars. Fuel has been the largest single cost for trucking fleets, accounting for 39 percent of the cost of ownership in 2013. According to a study by EDF and CERES, robust fuel efficiency standards for trucks could lower total per-mile cost of ownership by 22 cents-a-mile by 2040.
Companies across the Supply Chain Support Strong Final Standards
Given the combination of environmental and economic benefits that strong final standards will provide, many leading companies have already shown support. PepsiCo and Walmart – two of the largest trucking fleets in the U.S. – support strong standards. General Mills, Campbell's Soup, IKEA and many other companies that rely on trucking also support strong standards. Innovative manufacturers, equipment manufacturers, and freight shippers have also called for strong standards.
Consumers Demand More Efficient Trucks
Some of the savings from the Clean Trucks standards will be passed on to consumers. The Consumer Federation of America found that rigorous fuel economy and greenhouse gas standards could save American households $250 annually in the near term and $400 annually by 2035 on goods and services (even more than what EPA estimated). According to a survey by the Consumer Federation of America, a large majority of Americans – 74 percent – favor requiring truck manufacturers to increase the fuel economy of large trucks to reduce their fuel costs, as much of that savings is passed on to consumers.
Cost-Effective Technologies are Proven and Available
There are many technology solutions on the shelf and in production today that can be cost-effectively scaled to make trucks significantly more efficient and cleaner. Truckers and fleets across the nation have already begun adopting many of these fuel saving technologies and strategies.
Here are some examples:
Rigorous fuel efficiency and greenhouse gas standards for heavy-duty trucks and buses will make the American freight industry cleaner and create American jobs while saving American fleets and consumers money.