E2 shares President Obama's plan to reduce emissions from the transportation sector.
"The president is directing EPA and DOT to create a first-ever national policy to increase fuel efficiency and decrease greenhouse gas pollution from medium- and heavy-duty trucks for model years 2014-2018, and an extension of the national program for cars and light-duty trucks to model year 2017 and beyond,"
a White House official said. Grist has the details.
Michael Levi comments on a new World Bank working paper that looks at renewable energy projections from the last 36 years. The report seems to conclude that we are not great at long-run energy forecasting. Levi asks
"can you see a trend? If not, that's because there pretty much isn't one. Here's their fit:"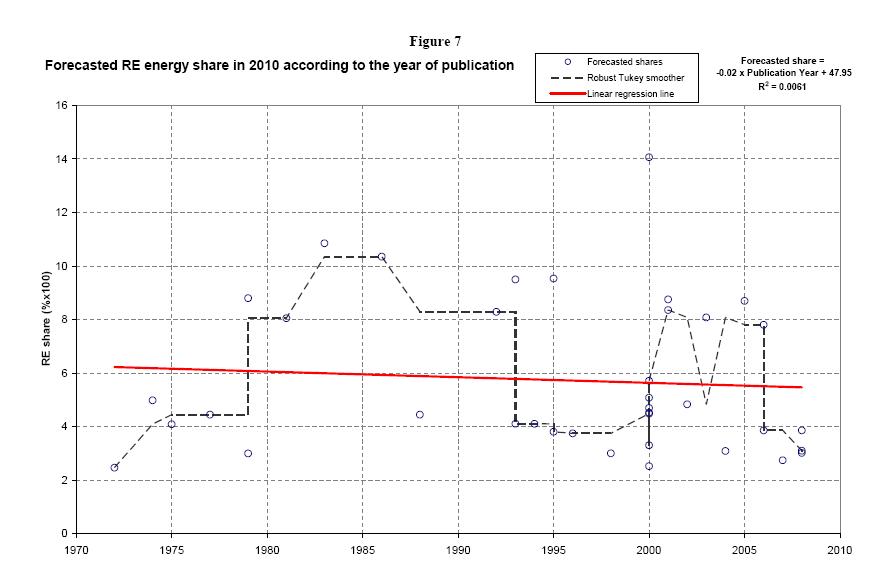 On Mother Jones, Kate Sheppard laments that in his weekly address,
"Obama yet again missed an opportunity to talk about how the spill illustrates the need to end reliance on fossil fuels. Instead, he gave passing acknowledgment to clean energy, while maintaining that we need to drill for oil here in the US."
Sheppard acknowledges that Obama is still engaged in the issue. In his speech, Obama did say that
"One of the reasons I ran for President was to put America on the path to energy independence, and I have not wavered from that commitment. To achieve that goal, we must pursue clean energy and energy efficiency, and we've taken significant steps to do so."
However Sheppard makes the point that Obama is still falling short.
"This would have been a perfect point to restate the need for Congress to pass a climate and energy bill this year. But Obama did not."
Sheppard ends her piece by asking the President to transition his rhetorical calls for "energy independence" into action.
"There will never be a better illustration of why our energy system is dirty and dangerous than the current disaster in the Gulf. But Congress needs Obama to step up and lead to prevent this opportunity from going to waste. So far, he hasn't."