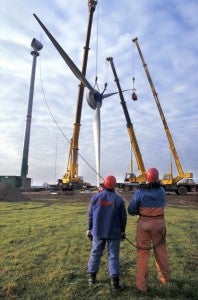 Ohio shot itself in the foot last year and we're only now learning just how bad the damage is.
In May of 2014, the Ohio Legislature froze the state's energy efficiency and renewable energy standards as a result of political pressure from Ohio's largest power company, FirstEnergy, and other groups. This freeze came after efficiency measures led to more than $1 billion in savings for Ohioans, clean energy companies invested more than $660 million in 2012 alone, Ohio boasted the nation's largest number of wind-component manufacturing facilities, and the state created 43,000 in-state jobs within the clean energy sector.
Needless to say, from 2008, when Ohio enacted its clean energy standards, to 2014, when it froze them, the Buckeye State was a clean energy powerhouse. But, as the Center for American Progress reports, when Ohio put a freeze on its clean energy economy, it hit the pause button on its entire economy.
According to the report, the freeze cost Ohio millions of dollars in energy investment. That equates to job losses, cancelled projects that would have brought sustained tax revenue to Ohio, and shifting operations to other, business-friendly states. Read More »