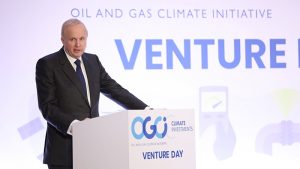 The day before the World Gas Conference – one of the energy industry's largest – 10 companies competed for USD $20 million to fund solutions with the power to disrupt how methane is managed, measured, and reduced.
The money was provided by Oil and Gas Climate Investments, the billion-dollar investment fund tied to the Oil and Gas Climate Initiative (OGCI) – a consortium of 10 oil and gas companies sharing knowledge and resources to cut the greenhouse gas footprint of their industry.
OGCI's investment team and technical experts from member companies provided expertise and consumer-driven insights to select the 10 companies competing at Venture Day from nearly 60 applicants. The goal was to highlight companies and concepts that aren't just innovative, but scalable and disruptive – something BP CEO and OGCI Chair Bob Dudley made clear: "If a person in the field with a hard hat turning the valves doesn't get it, it won't work."
Not only was Venture Day a moment to showcase how high-tech can be high-impact (despite the companies in the room, it felt more Silicon Valley than Houston), it also represented a noticeable shift in the philosophy around industry investment in the methane space. In what OGCI CEO Pratima Rangarajan dubbed "the year of methane," Venture Day signaled an inflection point for increased transparency, enhanced coordination, and global vision.