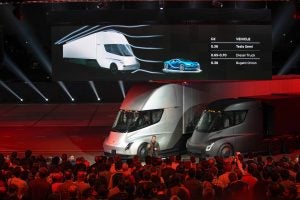 By Jason Mathers, Supply Chain Director at EDF, Corporate Partnerships
Tesla's much-anticipated electric semi-truck is garnering attention for its futuristic look and zero-emission promise – and it's part of an innovation trend that is changing the future of trucking, with implications for entire supply chains.
United Parcel Service, Anheuser-Busch, Walmart, PepsiCo and J.B Hunt are among the companies rushing to secure orders of Tesla's trucks, which are expected to be in production in 2019.
All-electric trucks can bring tangible benefits not just to truck owners, whose conventional vehicles can consume more than $60,000 worth of fuel a year, but also to their customers.
Fuel has long been a top cost for trucking, accounting for nearly 40 percent of the per-mile cost. Because fuel bills are passed on to companies that hire trucks to get their goods to market, electric trucks can thus promise businesses significantly lower and more stable operating costs.
For the business community as a whole, savings could be in the billions.  Read More »