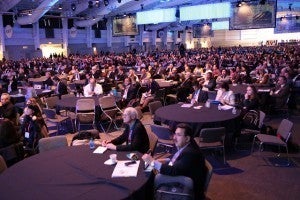 Each month, the Energy Exchange rounds up a list of top clean energy conferences around the country. Our list includes conferences at which experts from the EDF Clean Energy Program will be speaking, plus additional events that we think our readers may benefit from marking on their calendars.
Top clean energy conferences featuring EDF experts in May:
May 5:  Regional Plan Association Assembly (New York, NY)
Speaker: Rory Christian, Director, New York Clean Energy
Each year, RPA brings together more than 1,000 civic and business leaders from around the New York metropolitan area to discuss major issues affecting the prosperity and quality of life in the region. This year's assembly includes preliminary recommendations of the Fourth Regional Plan: a long-range vision for the shared prosperity of the New York, New Jersey, and Connecticut metropolitan region. It will also outline actions the region should take to ensure sustainability, good governance, and shared prosperity over the next 25 years.