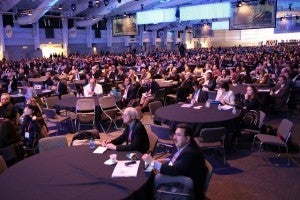 Each month, the Energy Exchange rounds up a list of top clean energy conferences around the country. Our list includes conferences at which experts from the EDF Clean Energy Program will be speaking, plus additional events that we think our readers may benefit from marking on their calendars.
 Top clean energy conferences featuring EDF experts in October:
October 5-7: SXSW Eco (Austin, TX)
Speaker: Kate Zerrenner, Project Manager
SXSW Eco creates a space for business leaders, investors, innovators, and designers to drive economic, environmental, and social change. Kate will be a panelist on the Energy-Water Nexus panel.
October 6-7: Demand Response World Forum (Costa Mesa, CA)
Speaker: James Fine, Senior Economist
The 2nd Annual Demand Response World Forum will bring together professionals from around the world to explore the latest auto-demand response (ADR) technologies and strategies for meeting the changing energy landscape of the 21st Century. Technology innovators and business leaders will meet for three days to discuss the evolving role of ADR in enabling an integrated and flexible network that is responsive to a wide range of energy resources, marketplace entities, and customer energy demand and generation. Read More