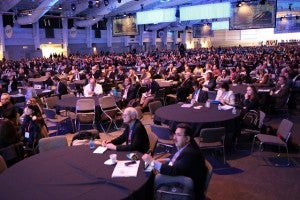 Each month, the Energy Exchange rounds up a list of top clean energy conferences around the country. Our list includes conferences at which experts from the EDF Clean Energy Program will be speaking, plus additional events that we think our readers may benefit from marking on their calendars.
Top clean energy conferences featuring EDF experts in May:
May 5: Smart Money For Sustainable Cities (New York City, NY)
Speaker: Mary Barber, New Jersey Director, Clean Energy
Learn from experts on today's leading edges of green financing, including topics such as greening municipal and corporate bonds, greening utilities, and building investor confidence. Get a jump start on the latest developments in renewable energy and efficiency projects at several scales. This event is free and open to the public.