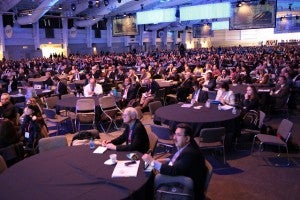 Each month, the Energy Exchange rounds up a list of top clean energy conferences around the country. Our list includes conferences at which experts from the EDF Clean Energy Program will be speaking, plus additional events that we think our readers may benefit from marking on their calendars.
Top clean energy conferences featuring EDF experts in March:
Mar 6-8: Global Clinton Initiative University Meeting (Miami, FL)
Speaker: Miriam Horn, Special Projects
President Clinton and Chelsea Clinton will host the eighth annual Global Clinton Initiative University (CGI U) Meeting at the University of Miami. The meeting will bring together more than 1,000 innovative student leaders to make Commitments to Action in CGI U's five focus areas: education, environment and climate change, peace and human rights, poverty alleviation, and public health. Through the CGI University Network, The Resolution Project, and other opportunities, over $900,000 in funding opportunities will be available to select CGI U 2015 students to help them turn their ideas into action.