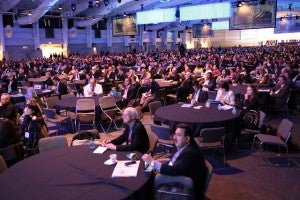 Each month, the Energy Exchange rounds up a list of top clean energy conferences around the country. Our list includes conferences at which experts from the EDF Clean Energy Program will be speaking, plus additional events that we think our readers may benefit from marking on their calendars.
Top clean energy conferences featuring EDF experts in January:
Jan 26-27: Net Metering 2.0 and Utility Solar Rates, Anaheim, CA
Speaker: Jamie Fine, Senior Economist
Net metering was a simple and appropriate rate mechanism when the solar industry was in its infancy and consumer-installed PV panels were relatively uncommon. But as policies and incentives enticed increasing numbers of home owners and businesses to adopt solar, the growing penetration of these resources onto the grid has resulted in some uncomfortable balancing acts among utilities, customers, regulators, solar providers, and other stakeholders important to the process. The objective of this conference is to explore rate structures that facilitate meeting solar development goals for consumer adoption, while striking an optimum balance among all solar development stakeholders, including utilities, and their business models.