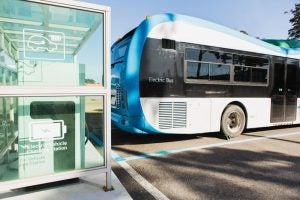 There is no question that 2020 was a hard year — for some, it was the hardest year of their lives. Yet despite the historic difficulty of 2020, there were some climate and air quality bright spots. For example, the march toward zero-emission trucks and buses is on. In 2021, we should increase our ambition.
Falling battery and vehicle prices, increased vehicle availability and a growing recognition that we must reduce climate and local air pollution from the transportation sector have sparked the transformation away from fossil fuel trucks and buses — classified as medium- and heavy-duty vehicles. In July, a coalition of 15 states and Washington D.C. committed to accelerating the transition of diesel trucks and buses to zero-emission alternatives. In so doing, they are committing to zero-emission sales targets — 30% of new truck and bus sales by 2030 and 100% by 2050.
Given that these states represent about one-third of the U.S. truck market, this commitment is a big step forward.
However, these goals do not represent the level of speed or scope needed to adequately address the significant health and climate change concerns posed by trucks and buses.