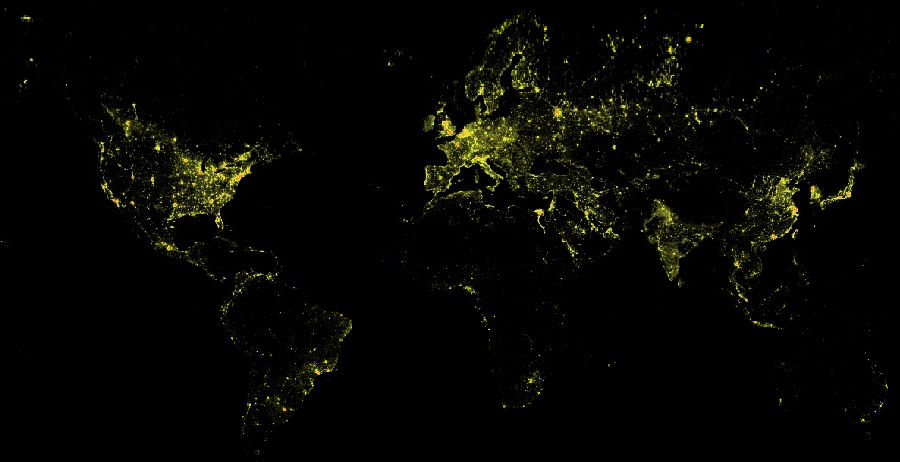 Most people are familiar with the iconic image of North Korea at night—Pyongyang stands as a beacon of light amid of what looks almost like a large body of water—but what is, in fact, land draped in complete darkness. That imagery revealed details about what was previously unknowable due to the country's cloak of secrecy—its meager electricity use and level of poverty. My colleagues Daniel Zavala-Araiza, Gernot Wagner and I took an even deeper look at how well night-time lights can account for other measures of socio-economic activity in a new article published today in the journal PLOS ONE.
I got interested in what these images could tell us back in 2012 when I started attending the Geo for Good conference, an annual event hosted by Google where nonprofits and researchers learn how to use geospatial tools such as Earth Engine. Gernot, Daniel and I started wondering what interesting applications we could explore with night-time lights data, and see what we could learn by examining the entire 21-year record of the National Oceanic and Atmospheric Administration's Defense Meteorological Satellite Program (DMSP) at the country level. We took that dataset and compared it to a much wider scope of other datasets. By using a distributed, parallelized platform such as Earth Engine, the scope of this research and our analysis is able to be larger than prior studies.
The prevalence and magnitude of night-time light is an alternative, standardized, and relatively unbiased way to gather information about important socio-economic indicators like CO2 emissions, GDP, and other measures that would in some cases be unknowable. For example, these data helped estimate the size of the informal economy of Mexico in a 2009 study by Ghosh et al.
We're hoping that by combining all of these methods, data sets, and tools, researchers can develop an even better understanding of how we relate to the environment, so we can ultimately become better stewards of it. Google Earth Engine, Hadoop and Spark are powerful examples of such tools —our hope is that our fellow researchers will ask and pursue new questions, so we can advance the conversation even further.