Tom Neltner, Senior Director, Safer Chemicals
This is the sixth in our Unleaded Juice blog series exploring how the Food and Drug Administration (FDA) sets limits for toxic elements like lead, arsenic, and cadmium in food and the implications for the agency's Closer To Zero program. 
A core tenet of FDA's Closer to Zero program is the "Cycle of Continuous Improvement" represented by the image below on the program's webpage. The four-stage, outer ring represents FDA's process for revising its action levels for food contaminants. The inner, grey ring describes the agency's on-going monitoring, research, and compliance program.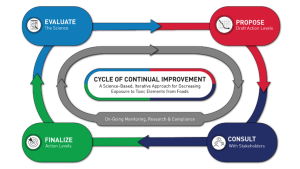 This approach makes sense, and we fully support it. However, the success of this approach relies on FDA addressing several significant structural weaknesses.