Lindsay McCormick, Project Manager, Sam Lovell, Project Specialist and Tom Neltner, J.D., Chemicals Policy Director
Recent crises around lead in drinking water have focused national attention on the harmful effects of children's exposure to lead. While the particular vulnerability of children to lead is well understood by most – what might be surprising is that the majority of child care facilities are not required to test their water for lead.
Only 7 states and one city have such regulations on the books. And while the Environmental Protection Agency (EPA) has provided a voluntary guidance, the "3Ts for Reducing Lead in Drinking Water," for schools and child care, the document has significant gaps in the child care setting – including an outdated action level of 20ppb and little emphasis on identifying and replacing lead service lines.
Given the critical need for more investigation in this area, we conducted a pilot project to evaluate new approaches to testing and remediating lead in water at child care facilities. EDF collaborated with local partners to conduct lead in water testing and remediation in 11 child care facilities in Illinois, Michigan, Mississippi, and Ohio. We have previously blogged about some early takeaways from testing hot water heaters and our preliminary findings from the project. Today, we released our final report, which provides the full results of the pilot and recommendations to better protect children moving forward.
Overall, local partners tested more than 1,500 water samples, resulting in the replacement of 26 of 294 (9%) fixtures. Additionally, we identified and replaced two lead service lines – the lead pipe connecting the main under the street to buildings – at facilities in Chicago and a suburb of Cincinnati.
While more than three out of four water samples had lead levels below 1 ppb, seven of the 11 facilities had at least one drinking water sample above EDF's health-based benchmark for action of 3.8 ppb (see figure below). Two of these facilities had at least one sample above 80 ppb of lead: 16 times higher than the lead level allowed in bottled water. Replacing fixtures generally was effective, however, we could not always reduce lead levels below 3.8 ppb, likely due to an inadequate NSF International standard allowing new brass fixtures to leach up to 5 ppb of lead.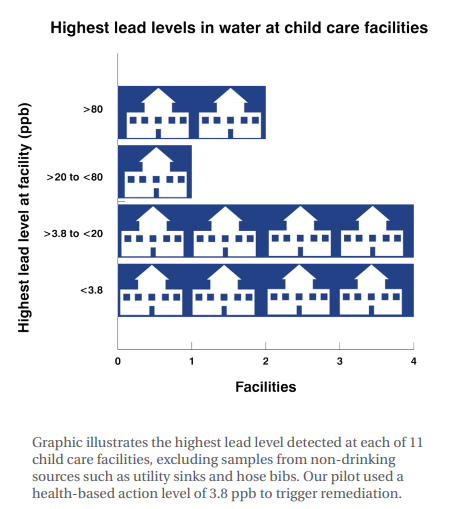 To succeed in testing and remediating lead in water, child care facility operators, state licensing agencies, and health departments will need support from EPA, water utilities, and NSF International, as well as the families they serve. The report provides recommendations for each of these critical audiences.
Key recommendations
Replace lead service lines in child care facilities when found through review of historical records and visual inspection.
Require testing for lead in water in child care facilities for interior sources of lead.
Set an interim action level of 5 ppb to investigate and remediate lead sources.
Strengthen the NSF International 5 ppb leachability standard to reduce lead in new brass fixtures.
Though child care facilities are currently a major gap in the effort to reduce children's exposure to lead from drinking water, they also present a critical opportunity for renewed progress in the future.
Get the full details on the report here.