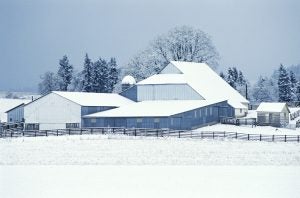 The corn and soybean fields that stretch for miles across the Midwest are quiet this time of year, mostly frozen surfaces waiting for the spring planting season.
Although many farmers are not in the field dawn to dusk during the winter, they are still plenty busy. Between planning for the next season, taking care of animals and attending countless meetings, farmers are seldom idle even if their crop fields are.
But lucky for us, winter does afford more time to talk.
One friend from Iowa who works hard to use fertilizer efficiently to avoid runoff and optimize plant uptake of nutrients said he worries that food companies don't always recognize the sustainability efforts of mainstream farmers. Too often, he said, it seems food companies look for simple labels like organic.
A soybean grower I know from Ohio who has invested a lot of time learning farming practices that will help restore nearby Lake Erie told me it is a constant struggle to balance making a living with repairing decades of agricultural nutrient runoff that have imperiled the health of the lake. Read More »