Last month, a Nor'easter left parts of Hampton Roads flooded for days, disrupting transit and damaging property. This situation is a reality for a growing number of Virginians who are experiencing more intense and frequent flooding due to rising sea levels and heavier precipitation.
Without action, coastal flood damages are expected to cost Virginia $5.1 billion annually by 2080, which is why its leaders must use every tool in the toolbox to match the scale of challenges facing people across the Commonwealth.
While Virginia's General Assembly concluded its 2022 legislative session with several successes, more work is needed – particularly in securing long-term funding for flood resilience, to protect people and natural resources from flood threats now and in the future.
Here are three key takeaways from Virginia's legislative session relating to flood resilience.
1. Leaders expand statewide coastal and flood resilience planning efforts.
The General Assembly implemented recommendations from Virginia's first Coastal Resilience Master Plan, including laying out a plan to develop an additional Flood Protection Master Plan to address statewide flooding. The bill bolsters planning efforts by requiring the Coastal Resilience Master Plan to be revised every five years and reestablishes, in state code, a new Coastal Resilience Technical Advisory Committee (TAC) to assist with the plan's development.
The legislation further supports efforts to meaningfully engage flood vulnerable communities through the development of a community outreach and engagement plan. This process is underway, and officials will finalize it at the end of this year.
New legislation also clarified that the Chief Resilience Officer (CRO) will oversee development of both the Flood Protection Master Plan and the Coastal Resilience Master Plan, allowing for comprehensive oversight and coordination of statewide flood mitigation and protection programs. However, the positions of Chief Resilience Officer and Special Assistant to the Governor for Coastal Adaptation and Protection remain unfilled. Adequate agency staffing and leadership are essential to the success of statewide flood resilience efforts.
2. Legislators take incremental steps to diversify flood resilience funding.
The General Assembly established a new Resilient Virginia Revolving Loan Fund to support private property owners and local governments to anticipate, prepare for, respond to and recover from significant multi-hazard threats such as flooding and extreme storms.
This revolving loan fund should be able to accept future federal funding from the 2021 Safeguarding Tomorrow through Ongoing Risk Mitigation (STORM) Act, which authorizes FEMA to establish revolving loan funds for states and tribal governments to reduce risks of disasters and natural hazards. Congress allocated $500 million in the infrastructure bill for this program, and FEMA will work on guidance for states this fall.
This diversification of flood resilience funding options was intended to supplement the Community Flood Preparedness Fund (CFPF), but lawmakers instead pulled $25 million from the flood fund to jumpstart this new revolving loan fund. With billions of dollars in resilience needs identified and only one source of dedicated revenue for the flood fund – the Regional Greenhouse Gas Initiative – this was a missed opportunity to allocate additional resources to flood resilience.
Learn more about the Community Flood Preparedness Fund grants here.
The Community Flood Preparedness Fund has already distributed more than $32 million to nearly 40 local and regional governments across Virginia to build capacity and implement flood resilience projects. Another round of grants for $40 million in available dollars received nearly $93 million in application requests in April, demonstrating the overwhelming need from communities. Going forward, instead of shuffling limited resources between funds, Virginia leaders should identify new options to invest in resilience.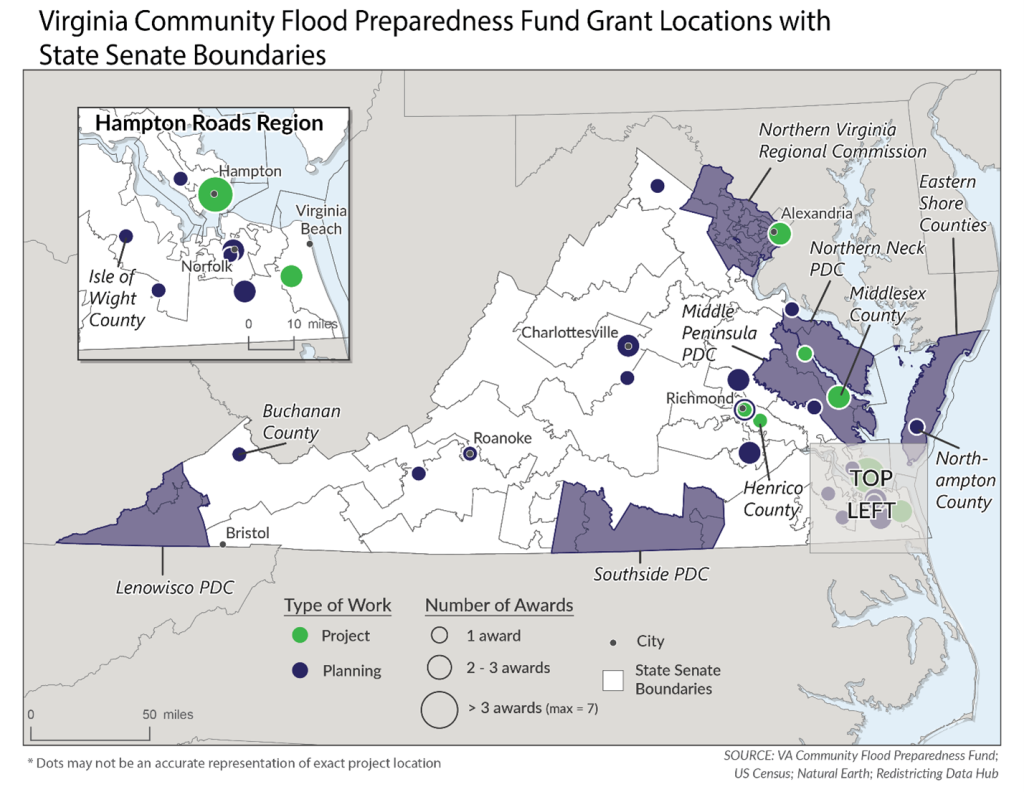 3. Transparency in funding decisions and proactive planning are needed.
Despite this progress, work remains to support state resilience programs and to expand flood mitigation resources to all Virginia localities with transparency and accountability.
The General Assembly failed to pass legislation that requires all localities to consider climate impacts in their comprehensive plans, the formal document that guides development and investment in a locality. With Virginia communities already facing rising climate impacts, there is no time to waste. Collaborative, coordinated planning is fundamental to assessing risk, engaging with communities and seeking funding to implement plans.
Additionally, Gov. Youngkin vetoed a bill last week that would have shifted administration of the Community Flood Preparedness Fund from the Department of Conservation and Recreation to the Soil and Water Conservation Board and expanded the Board with three additional members from flood-prone communities. The bill sought to provide more direct oversight and transparency in the fund's administration and guarantee that those affected by flooding can meaningfully contribute to how funds are spent.
Virginia's General Assembly made important strides toward statewide flood protection and community resilience this session. However, more planning, data and funding are needed to drive equitable climate adaptation for communities across the Commonwealth.