In 2020, Virginia made history as the first southern state to join the Regional Greenhouse Gas Initiative (RGGI), a highly successful, multistate carbon emissions cap-and-invest program for the electricity sector.
In its first year, the commonwealth netted $228 million through auction proceeds, with half going toward low-income energy efficiency and weatherization programs and 45% dedicated to Virginia's statewide Community Flood Preparedness Fund. The fund has made tens of millions of dollars available for local governments and tribes to build capacity, plan and implement flood resilience projects.
Despite these benefits, incoming Gov. Glenn Youngkin made headlines in December when he announced his intention to remove Virginia from RGGI. This would be a bad move for Virginia for a number of reasons — particularly because it would hamper the state's ability to implement projects to protect people and assets from flooding today and in the future.
Here are four reasons why Virginia must stay in RGGI to successfully address its flood crisis.
1. Flooding is increasing and Virginians need solutions now.
Climate change is already impacting Virginians, who are experiencing extreme storms and the highest rate of relative sea level rise on the Atlantic coast.
And impacts will increase dramatically, according to the state's recently released Coastal Resilience Master Plan. By 2080, the number of residents living in homes exposed to major coastal flooding will nearly triple from 360,000 to nearly 1 million people. Without action, coastal flood damage will skyrocket from $400 million to $5.1 billion annually by 2080.
Recent devastating floods in the inland town of Hurley show that flood risk extends beyond the coast. To address inland flood risk, the state is already working to expand the master plan statewide.
Polling from EDF Action found that more than 77% of voters statewide — across parties and including both inland and coastal residents — want Virginia's governor to address the state's flood risk. Additionally, two-thirds of Virginia voters support using state dollars to fund the Community Flood Preparedness Fund, including majorities of Democrats, Independents and Republicans.
2. RGGI has delivered over $30 million to flood resilience projects across Virginia.
Last year, the fund awarded over $32 million to nearly 50 applications from 30 local governments across the state, from Roanoke to Alexandria to the town of Oyster on Virginia's Eastern Shore. A third grant round with $40 million is open for applications through April.
Although Virginia's revenue from the first year of RGGI auctions exceeded expectations, ongoing needs far exceed available funds, with billions of dollars already identified for vital flood resilience projects.
RGGI is currently the only dedicated source of revenue for statewide flood resilience and the Community Flood Preparedness Fund. Communities throughout the state are counting on long-term funding streams to develop plans and projects in the coming years.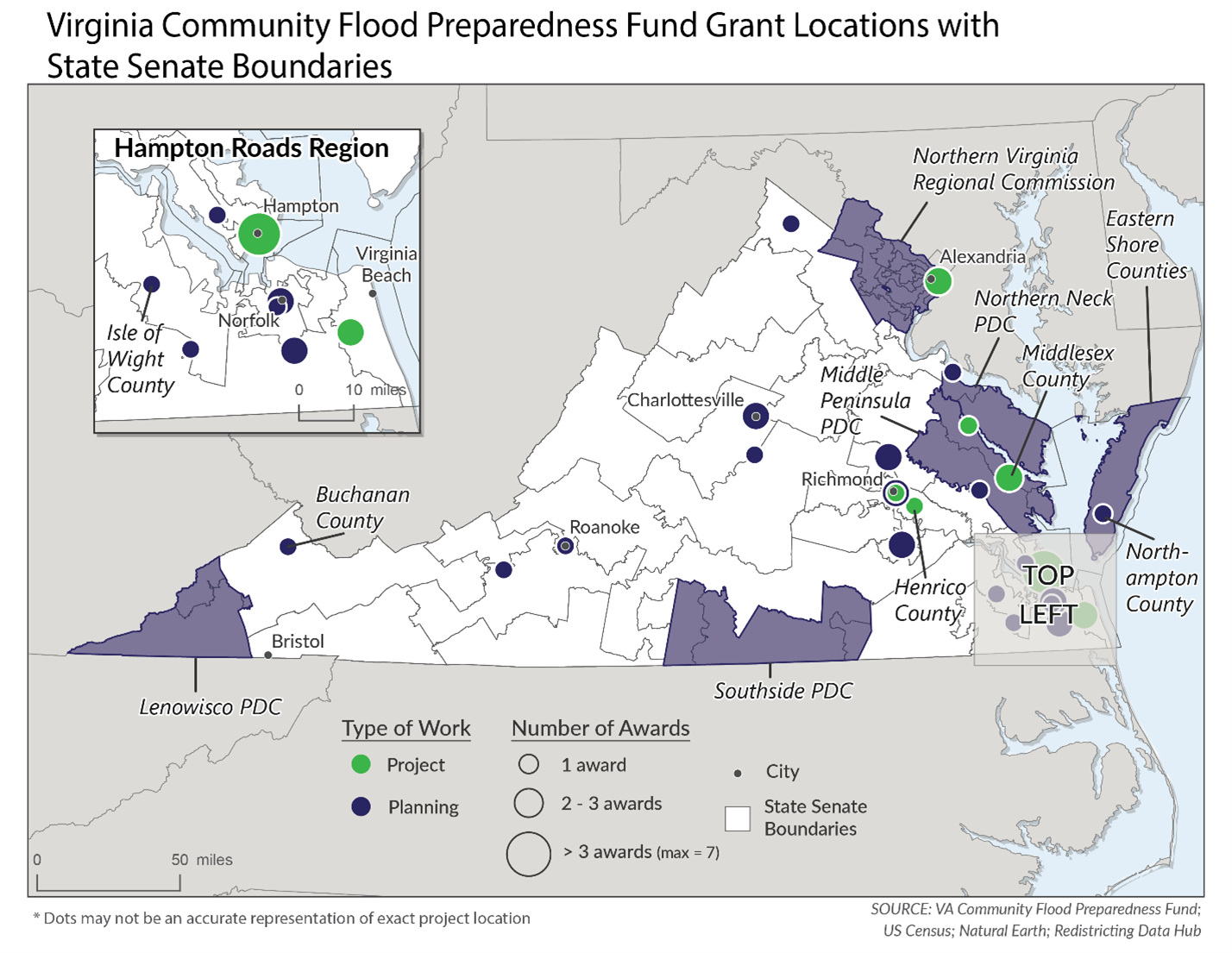 3. RGGI helps level the playing field for low-wealth and rural communities.
Although wealthier communities in Hampton Roads, Northern Virginia and Richmond can find their own revenue streams — as Virginia Beach recently did with a $567.5 million flood bond paid for by increased property taxes — this option is not feasible everywhere. The fund sets aside 25% of resources for low-income geographies, leveling the playing field by bringing urban ratepayer dollars into rural communities and building capacity in under-resourced areas.
The fund provides a phased approach to flood resilience, first through planning and capacity-building, followed by data collection, project design and construction. This is particularly critical for smaller, rural or low-wealth localities because it enables them to hire consulting teams or additional staff to build capacity and access resources they wouldn't already have.
4. Through RGGI, Virginia can leverage critical federal funds and innovative financing.
The fund has built-in flexibility and encourages leveraging private financing, public-private partnerships and other forms of innovative financing. The Town of Buchanan partnered with First Earth, an environmental asset management firm, to successfully secure funding to develop their first resilience plan.
Although the fund currently only provides grants, low-interest loans may be an option for future applications, expanding the funding pool for localities already pursuing loans through other means. For instance, Hampton worked with Quantified Ventures to establish a $12 million environmental impact bond to finance construction of three natural infrastructure stormwater mitigation projects.
Importantly, these grants can also help local governments meet the cost-sharing requirements of larger federal grant programs, magnifying the fund's impact.
Withdrawing from RGGI would make resilience financing in Virginia much more challenging by not only taking money away from local governments, but also making them less competitive in securing critical federal grants.
Withdrawing from RGGI hurts all Virginians, particularly those with greatest need.
Communities and businesses across the commonwealth are grappling with the growing impacts of flooding and need all the help that they can get. Pulling Virginia out of RGGI would strip away critical funding that local governments need and disproportionately harm under-resourced, small and rural communities who do not have the capacity to address flood risk on their own.
Update: As of December 31, 2022, Virginia's continued participation in the Regional Greenhouse Gas Initiative has now generated $235 million for the Community Flood Preparedness Fund (CFPF). The Department of Conservation and Recreation has awarded nearly $100 million in CFPF grants to localities across the commonwealth to date.