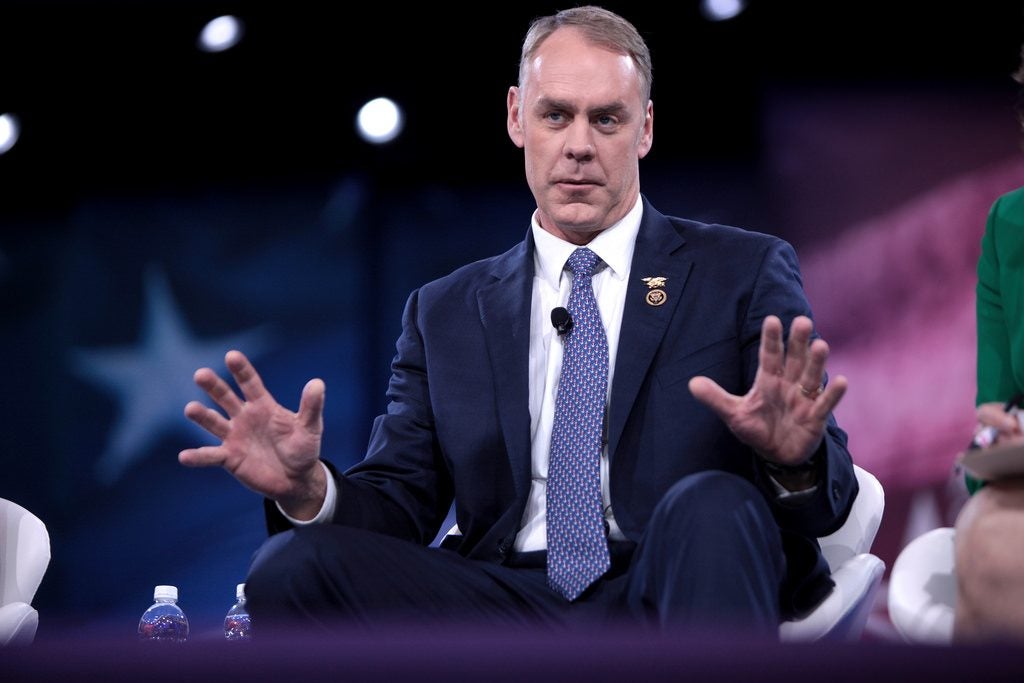 Interior Secretary Ryan Zinke last week invited members of the conservation community to meet with him to discuss a number of his department's near-term priorities.
Among these priorities was a "grand pivot" that Secretary Zinke described as a shift from focusing on energy dominance and shrinking monuments to a focus on conservation. When outlining his specific conservation priorities, Secretary Zinke spoke mostly in broad strokes about the reorganization of his department and infrastructure backlogs.
Some of his ideas on the reorganization had merit and we'd be willing to work with his agency to ensure that it is staffed to meet the needs of near and long-term conservation challenges.
While departmental organization and infrastructure needs are both worthy of administrative attention, I'm concerned that these priorities could detract from three urgent environmental and public health needs.
1. Offsetting impacts from energy expansion
Given the administration's focus to date on energy dominance – or the expansion of domestic energy development, including on public lands – there is an urgent need for stronger enforcement of common mitigation practices designed to offset the environmental impacts of energy and other development projects.
Based on what the science tells us about the impacts of these activities to at-risk wildlife, and on previous experience with well-planned mitigation projects, my conservation colleagues and I strongly advise Secretary Zinke to retain the net conservation benefit standard that was set in the 2016 Compensatory Mitigation Policy. This standard simply puts the Boy Scout rule, "leave the campground better than you found it," into practice on public lands, which belong to all Americans.
The need for implementing this rule is urgent because the continued growth of energy, housing, agriculture and near-term infrastructure priorities will have corresponding losses of forests, grasslands, prairies, rivers, streams and other ecosystems that are vital for wildlife and for people. These ecosystems also offer a multitude of ecosystem services including recreation, carbon sequestration, water filtration, pollination and more.
Mitigating impacts to these landscapes is the best way to allow for continued economic development while sustaining our nation's highly valued natural resources.
[Tweet "Zinke's focus on departmental reorg could detract from urgent environmental and public health needs."]
2. Maintaining a strong record on conservation funding
The 2018 budget increased investments in critical wildlife conservation programs such as the Land and Water Conservation Fund and helped ensure that the women and men at the U.S. Fish and Wildlife Service and National Marine Fisheries Service can continue to do their important work.
Secretary Zinke should continue to work with other administrative and congressional leaders to ensure these funding levels continue to grow, matching the ever-increasing challenges for Interior and other agencies' staff to keep pace with a growing economy and changing climate.
3. Eliminating methane waste from public lands
Secretary Zinke should also work with his staff at the Bureau of Land Management to maintain smart standards to stop oil and gas companies from venting, flaring and leaking away pollution and valuable natural gas.
The BLM methane waste prevention rule was celebrated as a bipartisan, industry-backed protocol for curbing the waste of millions of dollars' worth of natural gas every year. Capturing otherwise wasted methane gas would ultimately increase revenue for BLM and American taxpayers, helping fund education and infrastructure needs for communities across the country.
Secretary Zinke's recent proposal to gut the rule would cost taxpayers almost $1 billion in wasted gas, according to Interior's own analysis, and leave Americans with dirtier air and millions of dollars less in royalties meant for schools and roads.
It is my hope that Secretary Zinke recognizes commonsense environmental and public health priorities as his own and uses the "grand pivot" to take steps towards a healthier, more resilient future.