When the Trump administration announced that it was lifting the ban on imports of game trophies, there was public outcry. For days, my twitter feed was filled with photos of African elephants. It was, in Trump's words, a "horror show" – one that ultimately ended when the president made the decision to keep the trophy ban in place.
At the same time the trophy ban was making headlines across the globe, a different story was unfolding back home. A great American wildlife conservation story was being rewritten.
An American icon in peril, with no help from Trump
The greater sage-grouse isn't a species most people come to know as children when they visit the local zoo, but it's an icon of the American West, with its ancient mating ritual and spiky tail feathers that give it the look of a punk rock peacock. The bird is considered an indicator species because its success is a strong indicator of the health of the broader sagebrush ecosystem, which supports more than 350 other species, including game species like pronghorn and mule deer.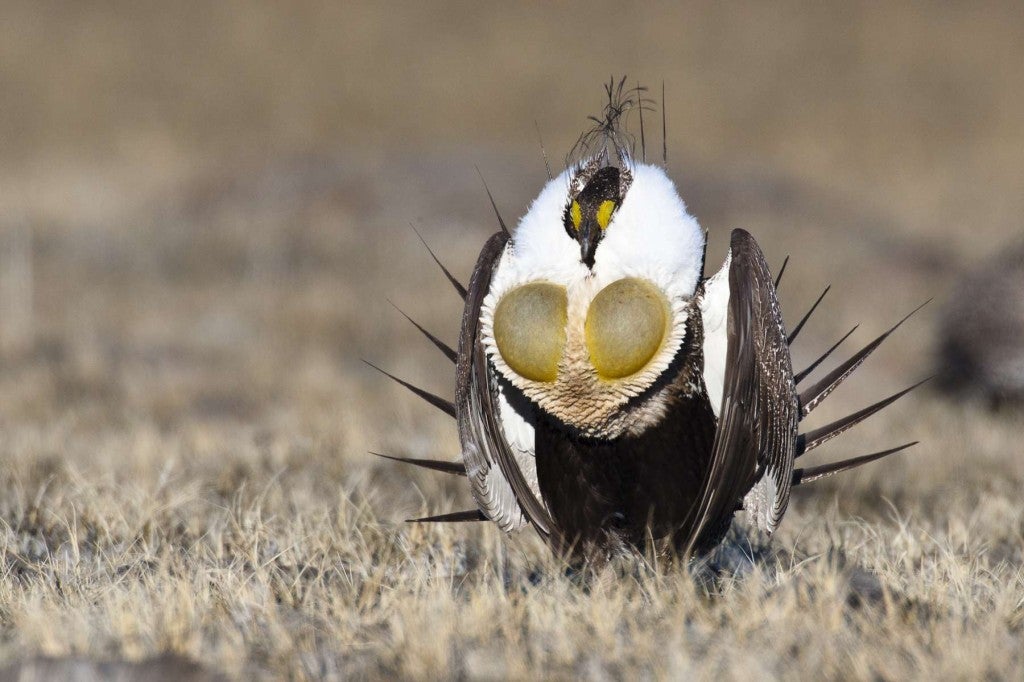 That's why so many people were concerned that the bird's population had fallen to historic lows, with a listing under the Endangered Species Act seemingly inevitable. That is, until state and federal representatives, ranchers, conservationists and industry stakeholders came together in a spirit of cooperation and collaboration to design federal sage-grouse protection plans. These plans were recognized as a key factor in the decision not to add the bird to the endangered species list in 2015 – a decision everyone hailed as "historic."
In stark contrast to this celebration of a major wildlife win, Interior Secretary Ryan Zinke is now revisiting the existing sage-grouse plans. On December 27, he reversed key guidance requiring BLM to prioritize leasing and development outside of greater sage-grouse habitat management areas before considering projects within the bird's habitat.
Since 2015, BLM had refused to offer many leases because of concerns for sage-grouse. However, in 2018, there has already been a significant increase in oil and gas leases offered for sale.
[Tweet "If oil and gas development in greater sage-grouse habitat continues, it will be a different kind of horror show – one that will affect people and wildlife here at home."]
If oil and gas development continues without respect for the conservation measures committed in the plans, the bird will likely lose its last remaining stronghold habitat on public lands. By ignoring the science, these actions are likely to cause sage-grouse populations to plummet, bringing the species closer to the brink of extinction.
If the bird is put on the endangered species list, we'll know why.
Conservation makes economic sense for sage-grouse, people and all wildlife
As the president caters solely to the interests of the oil and gas industry, he is putting America's wildlife, landscapes and natural heritage at risk. It's no way to put America first. And it doesn't even make economic sense.
For starters, reversing the sage-grouse plans will hold up millions of dollars invested in sage-grouse conservation programs – dollars that would otherwise be flowing to western states for projects on the ground. It will also hurt the outdoor recreation and tourism industries, which benefit from roughly $1 billion a year in economic output driven by sage-grouse. Ultimately, western jobs and livelihoods will suffer.
But it's not just about the sage-grouse. Trump's broader strategy of selling off public lands, weakening environmental standards and increasing energy development is a losing strategy that puts short-term industry profits over the long-term viability of the western landscape and way of life.
It will have broader consequences for the $25-billion restoration and $887-billion recreation economies, which directly support nearly 8 million American jobs. It will be a different kind of horror show – one that will affect people and wildlife here at home.
I would like to see president Trump as outraged by these threats to America's wildlife and economy, and come down on the side of protecting the greater sage-grouse and keeping the existing plans in place.
Related:
Zinke's sage-grouse review signals shifting influences in Washington
These quiet policy changes will pave way for massive development on public land
10,000-acre deal to protect sage-grouse marks milestone in conservation