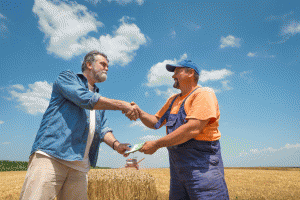 Over the past decade, private investment in conservation has more than doubled, with sustainable forestry and agriculture investments as the main drivers of growth. This unprecedented expansion in "impact investing" or "conservation finance" has occurred as investors seek good returns that can also benefit the environment.  According to Credit Suisse, sustainable agriculture is particularly appealing to investors as it offers a wider array of risk mitigation approaches than sectors such as energy and transportation.
Yet despite this boom, there has been very little investment from private capital in emerging ecosystems markets, especially in the agricultural sector.
We've blogged before about the benefits growers – and the environment – realize from participating in agricultural carbon markets or habitat exchanges. But here's why the private sector, food companies and retailers should invest in agricultural carbon markets.
Markets are up and running
The American Carbon Registry and the Climate Action Reserve, both voluntary carbon registries, have developed 10 working lands protocols over the past six years that relate to agriculture. These protocols address issues such as grasslands conversion, methane emissions from farming, fertilizer efficiency, and wetland degradation.
The protocols enable farmers who reduce their environmental impacts to earn carbon credits that can be sold through either voluntary or compliance markets such as California's cap and trade system. And growers are jumping at this opportunity. With the rice protocol, for example, growers spanning 22,000 acres have expressed interest in just the first year of the protocol.
Environmental Defense Fund also received two Conservation Innovation Grants from the Natural Resources Conservation Service to catalyze the market for agricultural offsets from nitrogen fertilizer optimization and grasslands protection. Both aim to provide attractive new investment options for companies looking to buy carbon credits.
Opportunities for investment
The opportunities for investment are plentiful and increasing. Currently, companies can purchase voluntary or compliance credits generated through agricultural offset projects. A small number of investment funds also allow private, public and corporate investors to provide upfront capital for growers to implement and scale pilot projects that demonstrate the real potential of greenhouse gas (GHG) reductions from agriculture.
The initial stages of market formation and establishment are risky and complex, and despite support from NGOs in establishing the infrastructure for nascent markets, many barriers must be overcome to create the first pilot projects. Private and foundation investment is essential to paving the way for a market to function independently.
Experts within the Conservation Finance Network, a collaboration of investors and environmental professionals (EDF included) working to leverage capital to achieve conservation goals, emphasized the importance of demand in driving a successful market. Companies play a critical role in signaling interest in credits produced through offset markets, thus providing financial support for projects.
Meet corporate sustainability goals
The Paris climate agreement accelerated corporate commitments to reduce GHG emissions and/or go "carbon neutral."  To turn these promises into action, companies will need to reduce emissions within their supply chains – but they can also purchase offset credits generated directly from working landowners.
For example, as Agri-Pulse reported in 2014, "Chevrolet's first purchase of third-party verified carbon credits generated on working ranch grasslands is part of its commitment to reduce 8 million tons of carbon dioxide from being emitted, according to [General Motors]."
Investing in sustainable agriculture also reduces the risk of supply chain disruptions from extreme weather events and protects our food supply. Not to mention the environmental benefits of reducing pollution, avoiding regulations and preserving important habitats, thereby avoiding endangered species listings that can hinder development.
Related:
The science behind agricultural carbon markets >>
First-ever habitat exchange opens for business >>
Carbon markets in agriculture are the next big thing >>