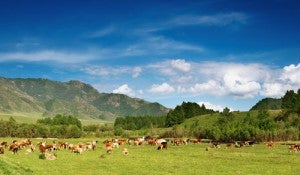 Rebecca Haynes is a High Meadows Fellow with EDF's Agriculture Greenhouse Gas Markets program.
Next week, hundreds of ranchers, landowners, land trusts, and environmental groups will gather in Stockton, California, for the California Rangeland Conservation Coalition's annual summit. The event isn't new, but the enthusiasm from attendees is unprecedented and palpable.
Why such a bustle in the grasses? Because of two recent landmark developments that reward ranchers for avoiding the conversion of grasslands to croplands:
In August, the Climate Action Reserve (one of the offset registries that oversees carbon credit development) approved a new voluntary grasslands protocol that offers payment for conservation activities.
In September, the Climate Action Reserve received a Conservation Innovation Grant (CIG) from the USDA to create a pilot grasslands project in coordination with EDF. This project will assist participating landowners in generating carbon credits. If adopted by the California Air Resources Board in the future, these credits could be sold in the California cap-and-trade market.
These two developments are part of a rapidly growing trend that offers landowners payments for conservation measures. Protecting grasslands means big wins for the planet and for ranchers, who have been committed partners in conservation and now have the opportunity to receive additional incentives to protect their landscapes. Here's how it all works.
Grassland benefits
California's grasslands cover approximately 25 percent of the state – either as open grassland, oak woodland, or savanna. And they provide a lot more than a beautiful landscape. Healthy grasslands support healthy watersheds, improve water quality, and help prevent erosion.
Many of these grasslands also support livestock and other grazing animals, and provide important habitat to numerous endangered and migratory species. Approximately 90 percent of species listed in California's Inventory of Rare and Endangered Species live within grassland ecosystems.
Over decades, carbon from the atmosphere accumulates in the soil of grasslands, a fantastic way to store the carbon and keep it out of the air. But this carbon is released when the land is converted to cropland, thereby emitting greenhouse gases that contribute to climate change.
How to generate carbon credits
Ranchers who participate in the pilot project are rewarded for avoided conversion, meaning leaving their grasslands in place. Even though ranchers lose the opportunity to convert their grasslands to cropland, they still benefit financially from the additional revenue earned by keeping carbon in its place – in the soils of their grasslands.
Only a few metrics are needed to determine whether a rancher's land is eligible to participate in the pilot project, and how much revenue he or she could gain from enrollment. These metrics include land use history, geography, and soil type. EDF and our partners will assist with the data collection and registration of the project. The data is then submitted to the Climate Action Reserve and independently verified by a third-party auditor.  Once the information is verified, the landowner is issued credits for the carbon kept in their soil.
If you'll be at the summit in Stockton next week, come by EDF's booth to learn more about the Grassland Conservation project. I'd love to tell you more. You can also send me an email, or connect with my colleague Robert Parkhurst.