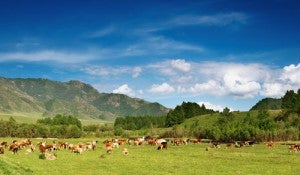 Rebecca Haynes is a High Meadows Fellow with EDF's Agriculture Greenhouse Gas Markets program.
Next week, hundreds of ranchers, landowners, land trusts, and environmental groups will gather in Stockton, California, for the California Rangeland Conservation Coalition's annual summit. The event isn't new, but the enthusiasm from attendees is unprecedented and palpable.
Why such a bustle in the grasses? Because of two recent landmark developments that reward ranchers for avoiding the conversion of grasslands to croplands:
In August, the Climate Action Reserve (one of the offset registries that oversees carbon credit development) approved a new voluntary grasslands protocol that offers payment for conservation activities.
In September, the Climate Action Reserve received a Conservation Innovation Grant (CIG) from the USDA to create a pilot grasslands project in coordination with EDF. This project will assist participating landowners in generating carbon credits. If adopted by the California Air Resources Board in the future, these credits could be sold in the California cap-and-trade market.
These two developments are part of a rapidly growing trend that offers landowners payments for conservation measures. Protecting grasslands means big wins for the planet and for ranchers, who have been committed partners in conservation and now have the opportunity to receive additional incentives to protect their landscapes. Here's how it all works. Read More »